Joining Last Days, Battleworld and Warzones will join the new series' that will tell a more in-depth tale of the multiverse after the dawn of the reality-shattering Secret Wars.
The Marvel Universe has been destroyed! One by one, each and every universe across the cosmos has been eliminated. All that exists is a new, patchwork planet made up of the remains of decimated universes.  Today, Marvel is proud to announce BATTLEWORLD, which joins LAST DAYS as two of the three unique umbrella brands of titles launching during Secret Wars!

"If you want the full story of what's happening across the surface of this new planet,  BATTLEWORLD branded titles are for you," says Marvel Editor-in-Chief Axel Alonso. "Who polices Battleworld? How do the various domains interact? What happens when those domains go to war?  What strange, never-before-seen creatures inhabit this world? What familiar faces will make appearances? Fans who want to fully understand how each sector interacts with the others can't miss out on these books!"

Titles carrying the BATTLEWORLD banner will focus on the interworking and interaction of all the domains now fused together throughout the one and only remaining planet! The Secret Wars are waged as the last remaining fragments of dead universes fight for survival. Who rules these domains? Who comes out on top? Who lives? Who dies?

"The inner machinations of Secret Wars happen here," says Marvel SVP Sales & Marketing David Gabriel. "BATTLEWORLD branded titles will be clearly marked through the Marvel Previews solicits as well as with well distinguished cover trade dress, this way both retailers and fans will know what they're getting. Think of these as the new core monthly titles. "

What secrets are about to be revealed? Find out this may as Secret Wars enters BATTLEWORLD!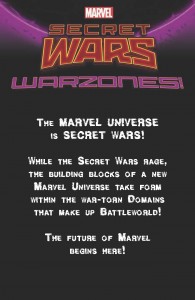 The future begins here! When everything ends, there is only Secret Wars. Today, Marvel is proud to announce WARZONES!, the final umbrella of titles launching during Secret Wars! WARZONES! joins LAST DAYS and BATTLEWORLD as the three different categories of titles launching throughout Secret Wars, each with their own unique type of story to tell!

"If you want a glimpse of what the future holds, you'll find it in the WARZONES titles," says Marvel Editor-in-Chief Axel Alonso.  "Our creators let their imaginations run wild as they lay down the foundations for the future.  Whether we're revisiting the most popular events from Marvel's past or telling completely new stories, you won't believe what we've got in store for you."

All that remains in the cosmos is Battleworld, the strange, patchwork realm playing host to countless realities, all existing side-by-side, fused into a single planet! Titles carrying the WARZONES! banner tell stories of the individual dominions of Battleworld. What happens within their borders? What heroes guard their skies? What villains conspire within? How does over 75 years of Marvel's epic history play out now that Battleworld is all there is?

"To be clear, WARZONES! titles are NOT fill-ins. These are the event caliber books, magnified to the Nth degree," says Marvel SVP Sales & Marketing David Gabriel. "Secret Wars has afforded us a completely unique opportunity to tell huge, epic, event-sized stories within the framework of this new, patchwork planet – events within events. These titles will lay the building blocks and groundwork for what's next, if that gives any indication of how important they are!"

While the Secret Wars rage on, the foundation of a new Marvel Universe take shape within the war-torn domains across Battleworld. The future of Marvel begins in the WARZONES!
I'm pretty excited about this one, a fact that you probably already know if you've been following our coverage. There's tremendous potential in this soft-reboot of the Marvel U, especially since the company can pick and choose between 'realities' as to what characters and events will stick around after the universe inevitably snaps back into existence after the Secret Wars event comes to a close.
In the meantime though, all these new series' sound good and like they could add a lot to the already announced Secret Wars and Last Days books. One thing's for sure though, this is going to be one massive event, and one of the biggest (if not the biggest) in the history of the company. Get on board this Spring and don't miss an issue of Secret Wars, Last Days, Battleworld, or Warzones if you want the complete picture of how the new Marvel U will come into being.
…you think anyone's going to get zombified by the undead heroes and villains of the Marvel Zombies world?