The zany world of Sunset Overdrive will be free for 24 hours starting November 22. Xbox Gold members can start to download the game at 12:01 a.m. EST. This is not a demo but the full game, yes that is correct. Run, slide and jump through the wacky world of SO as achievements will be available to unlock. Gamers can save their progress so that if they decide to purchase the game at a later date the information will transfer over.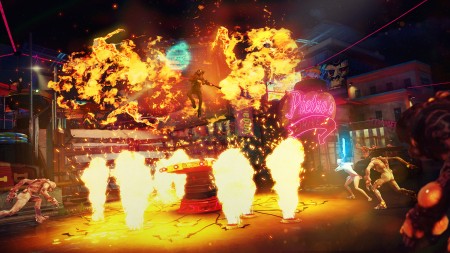 SO is a wacky zombie survival game. The main character must make his way through town after an energy drink turns everyone into a monster. For more information on SO make sure to check out BrutalGamer.com's review here. This game scored well at BrutalGamer so make sure to experience all the awesomepocalypsese this weekend.
Don't forget to check out The Chaos Squad, the eight-person multiplayer of SO. This mode can only be unlocked after reaching a certain point in the single-player game. This 24-hour demo is the first in a series of free stuff that Xbox is going to be giving away during the next couple of weeks as Microsoft celebrates the one-year anniversary of the Xbox One. Gamers who enjoyed the free session of SO should stick around to see what the next batch of DLC has to offer.
Check out the Xbox Twitch channel for all the crazy new weapons on Monday, November 24, 2014.