The Skylanders return to take down a group of escaped bad guys, with a little help from some former villains.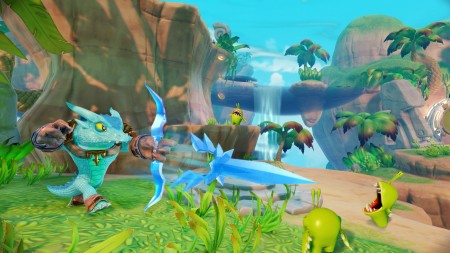 The fourth game in the series, Trap Team is something of an evolution for the Skylanders series on the whole. It's still the Skylanders you know and love, don't get me wrong, but it's got some added elements that actually might have you playing for stretches of time without using your figure collection.
Every time I get a new Skylanders game, I have something of a ritual. I grab my favorite Skylanders characters from their storage rack (yes, I have a rack full of them) and spread them out on the floor, along with the Portal of Power, and then go from there. More often than not, I'll make a few return trips to the rack to grab some more, swap out a few, and maybe even give that series 1/2 Skylander I keep meaning to use (but never do) a crack at some action… probably not though.
So it was pretty interesting then to be presented with Skylanders Trap Team's new mechanic- the traps. These little translucent faux crystals are not only super-cool to look at and beautifully sculpted, but they serve a pretty important function in the game. That being, that they 'trap' certain villains, allowing you to actually play as them for a time.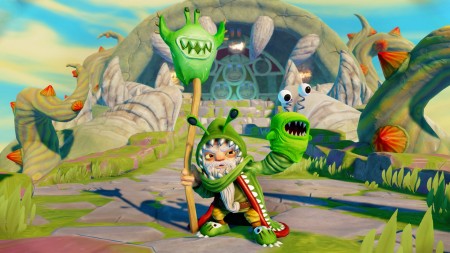 Villains convert to 'good' when they're trapped you see, and they've got plenty of neat attacks and some abilities that rival those of some Skylanders. Actually, the biggest difference between them and the heroes of the game is that (aside from not having real-world figures) they run out of time and need a rest pretty quickly once you're actually playing as them. The time-limit serves as a health bar of sorts and ticks down, moving faster when they take damage. I assume this was done to actually get people to use their Skylanders once again and not just lean on the villains, which are pretty darn cool in their own right and I could easily see them joining the figure ranks as a new faction down the line.
And speaking of 'figures', the biggest new addition (other than the baddies) to the Skylanders universe are the Trap Team members. These guys and gals are the prison guards of Skylands and stood watch over Cloudcracker Prison, a place that held the worst baddies in Skylands… till the series' regular antagonist Kaos blew it up and set them all free.
The little guy thought they'd bow down to him and follow him against the Skylanders, but it didn't quite work out that way as the Doom Raiders (the worst of the worst) pretty quickly take over Kaos' castle and turn him into a joke of a bad guy. As you might imagine, he's not too happy with this and that's where the odd pairing of Kaos and the Skylanders starts up.
As for those Trap Team members, like the Swap Force they're really not fleshed out all that well as a faction in the game, but they do have some powers and abilities that'll definitely make you want to add a few of them to your collection. For starters, they're way stronger than the rest of the Skylanders against big bad's. Like, way stronger.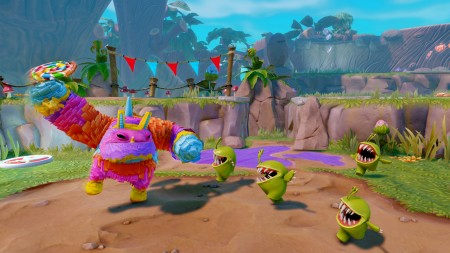 I have my favorite figures and still use them quite a bit, but the Trap Team makes for a very compelling argument as to why you should exclusively use them throughout your latest Skylands adventure. Plus, the new figures are really, really neat. They have clear plastic moulded parts, cool ideas behind them and, for the most part, some wicked sculpts. They represent some really nice work and tower over the other Skylanders in terms of design and sheer size (well, all except the Giants).
The Minis are a new addition this year as well, but certainly don't hold the same attraction as the Trap Team. These diminutive versions of some of the more popular Skylanders characters (from multiple series) look great, but lack the in-game punch that the Trapsters do… not that I didn't pick up a few of them as well.
So that's about the figures (which is really half the experience), but what about the game itself? Well, if you've played Skyanders in the past, then you have a really good idea of what Trap Team plays like. There's a bunch of new settings and some cool new things to do in the game, but it's more or less Skylanders as you know it. Not that that's a bad thing.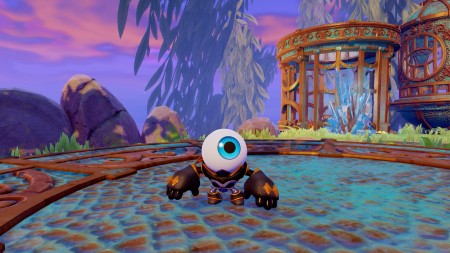 This is a series that came out of nowhere and has risen to the very top of the platforming pile in the gaming world, and Trap Team is basically that same formula that was born in Skylanders: Spyro's Adventure, but perfected. Everything in Trap Team oozes polish and shine. Seriously, if this isn't a triple-A platformer, I don't know what is.
Graphically, Trap Team is the best looking Skylanders game yet. Developer Toys for Bob, returning after a year 'off', has crafted lush visuals and cartoony stages that play out perfectly in form and function. They're over-the-top, filled with crazy designs and bursting at the seams with color and life- exactly what you'd want from a game like this. Likewise, all the various Skylanders themselves look incredible on screen (even the older ones) and are animated beautifully.
The sound design is almost as good with volumes of tremendous voice-work that's really cartoon quality, and music that's light and doesn't interrupt the action. To some people's chagrin, the Flynn character (played by Patrick Warburton) once again is present throughout much of the game. He's only one of the main characters here though and doesn't quite hog the spotlight like he did in past titles. Personally, I like the little glory-hog, but I've heard from some that he does tend to grate on the nerves.
One thing that will not 'grate' are the controls in Trap Team. Perfect and spot on, the control scheme is gloriously easy to use and yet pretty deep. As you level up your characters and add new abilities, things do get a little more complex, but nothing that's all that difficult to master- especially anyone who's played a Skylanders title before.
Final Thoughts
After having scoffed at the first installment and then skipping the second (Giants) till well after launch, I got hopelessly hooked on Swap Force and have subsequently played through all of them. I'm addicted to this series and Trap Team only further feeds that addiction.
More figures (in more subcategories) are great all by themselves, but add in an excellently crafted platformer to play with them in and you've got a winner for anyone who loves Skylanders or just a great game experience. Young or old, if either one of those titles describes you, then this one's a can't miss.