Hardcore Divinity fans take note, Larian's new RPG has a very limited special edition boxed edition that's brimming with extras.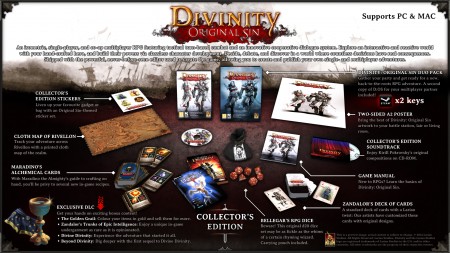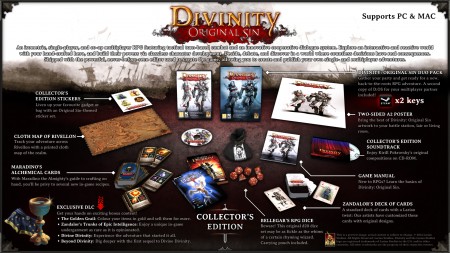 Available only through Larian's online store, the Divinity: Original Sin Collector's Edition is one serious chunk of gaming goodness. The box includes:
Two copies of Divinity: Original Sin for co-op adventuring
Digital copies of Divine Divinity and Beyond Divinity
Recipe cards to help you craft in-game
A cloth map of Rivellon
A two-sided A2 poster
A Soundtrack CD
An Original Sin-themed playing card deck
Premium-quality RPG dice set with pouch
A Sticker pack
That's a lot of stuff by anyone's estimation and for any platform. The fact that it's for a PC game, which really don't even get boxed copies anymore, is just plain awesome. Should I take this opportunity to reminisce about the 'big box' PC games of yore? …eh, I don't want to bore you to death in the middle of this pretty awesome announcement, so I'll pass on that I guess.
Click here for more info about Divinity: Original Sin and here to order up a copy of the CE version of the game. You might want to hurry up and make up your  mind too, as Larian had 3,000 of these bad boys to sell, and 1500 were taken right off the top but he Kickstarter backers who helped the game to press. As for the remaining copies, who knows how fast they'll be going…
Divinity: Original Sin is available right now on Steam Early Access in Beta format.