The movie adaptation of the super-popular racing game series is set to pull into your living room soon.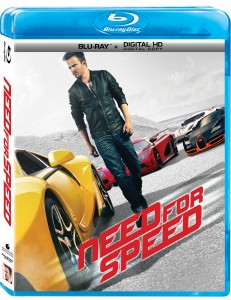 From Buena Vista Home Entertainment and director Scott Waugh, Need for Speed stars Breaking Bad star Aaron Paul as an underground racer out for revenge against an ex-NASCAR driver who framed him for a crime. Aside from Paul, the flick also stars Dominic Cooper, Imogen Poots, Scott Mescudi, Dakota Johnson and Michael Keaton. The movie is also a wholly original story and has no ties to the game series really except for the concept… and the fast cars of course.
As for extras, the Blu Ray should have plenty on the disc for fans of the games and just those who like a good car chase movie.
First, go behind the wheel for an up-close look at what it took to capture the movie's intense car stunts on camera with "Capturing Speed: Making An Authentic Car Movie"; next, meet the Gilbert family, four generations of professional stuntmen, who turned the Mustang hero car's astonishing "grasshopper" jump over four lanes of traffic into a family affair in "Ties that Bind"; then, experience the Need For Speed traveling road show as the movie films from one end of the country to the other in "The Circus is in Town"; finally, discover how the movie's stunning soundscape helps put the audience in the driver's seat by recording "car bys," accelerations, donuts, skids—and the "gnarly" signature sound of the hero Mustang – in "The Sound Of Need For Speed."

Additional must-own bonus features on Blu-ray include an audio commentary with director Scott Waugh and Aaron Paul; Monarch & Maverick outtakes featuring stars Michael Keaton and Scott Mescudi cutting loose; 4 deleted scenes with introductions by director Scott Waugh; trailers, and more!
Expect to see Need for Speed blazing into stores on August 5th in DVD, Digital (HD and SD), and Blu Ray Combo Pack formats.