Artistes who wish to study under the Pokemon school should make their way to the Nintendo 3DS this Fall.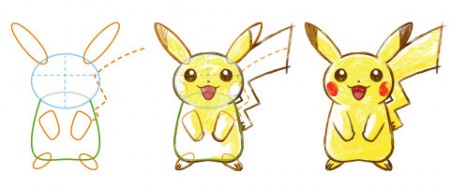 Pokemon Art Academy is the next in the Art Academy series from Nintendo and centers on the title critters in all their cartoony glory. 40 lessons in all will be included as fans can learn how to "paint, sketch and draw beloved Pokémon characters in 2D." As you finish up with your masterpieces, you can transfer your work to actual canvas and upload them for all the world to look on in awe at.
"The Pokémon characters themselves are among the most endearing and enduring aspects of the Pokémon video games, with everyone having their own favorite," said Scott Moffitt, Nintendo of America's executive vice president of Sales & Marketing. "Pokémon Art Academy lets fans deepen their connection with these iconic characters by providing detailed lessons teaching how to draw them on their Nintendo 3DS or Nintendo 2DS in a straightforward and enjoyable way."
Expect step-by-step lessons here, that'll allow you to draw your favorites like "Pikachu, Oshawott, Charizard, Torchic, Fletchling and Fennekin" right on the 3/2DS screen. Expect to see Pokemon Art Academy on the eShop and in store some time this Fall.