The latest take on the venerable Warhammer 40k universe from Games Workshop is a pretty unique strategy/tower defense affair with some interesting twists to the genre.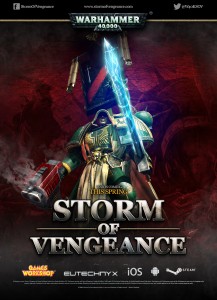 As I've said in many a report, I'm a big time Warhammer fan. Games Workshop's dual universes of fantasy and dark sci-fii are pure gold as far as I'm concerned and, although I haven't played a game of the tabletop variety in years, I think the content and sheer breadth of backstory is beyond impressive and not too far off form the esteemed Dungeons & Dragons lore. In fact, if it's behind that fantasy universe at all, then it's only just.
Now, Warhammer video games are another story. Those I've played a ton of in the past two decades and they're mostly pretty well-made affairs. Some more than others, but it seems like both Warhammer Universes are pretty well-suited to the gamescape. Developer Eutechnyx latest title is one that adapts the 40k galaxy of arcane technology and rampaging Orks, and it does it very well.
I'm not a tower defense fan by any stretch and my involvement with the genre consists of a few games played several years ago, followed by extreme boredom with the play style and my exit form ever messing around with it again. Till this preview, I haven't played a TD title since the original Plants vs Zombies and I've been fine with that. I have to say though, I'm more than pleased that the chance to sit-down with Eutechnyx and demo a bit of Storm of Vengeance fell into my lap, because it's looking pretty great.
At its core, this is definitely a tower defense title, but there's so much more to it than that, that it makes you feel like you're experiencing a much fuller game than something as simplistic as defending towers against waves of baddies. You have four lanes of traffic with which to condoned on the main play screen, each of which will end in a 'tower' that you'll have to blow to smithereens.
Each lane will also have a stream of enemies that'll be making their way towards your towers to make trouble for you. Both elements make for some surprising strategic possibilities as you'll have several different tower-types to drop as you see fit and differing selections of soldiers to send off to wreak the enemy's camps. You can also outfit your troopers in different ways and make a few different types (Warboss anyone?).
You can even attack across lanes to winnow down a tide in an undefended section of the battle screen and even hum into those lanes if you have something like a jump-jet powered marine. Actually, pretty much all the major (and some minor) troop types from the 40k universe make appearances here and all of them look and act like their tabletop counterparts. I can't say I got all that deep into the play experience though (our demo was only a half hour in length), so I'm not exactly sure just how many you do get to play with in the full game.
On that end though, Eutechnyx has already announced a selection of DLC for the game that will include even more fan favorites like Dreadnoughts, Stormboyz, and Terminators (yay!). In addition, there'll also be more skins arriving to deck out your Orks in. You'll be able to lead your very own faction including the Bad Moons and Death Skulls; you et the Goff clan by default in the base game.
Eutechnyx also tells us that there might be additional races coming to Storm of Vengeance at some point down the road. Of course, here before release, it's a little early to even really talk about that in any detail, but I assume that if the game does well, you'll see something announced some time soon.
And I think it probably will do quite well. For starters, Storm of Vengeance has the Warhammer 40k name. That alone will draw more people to it to at least try it than just being released as an original IP. Once gamers try it out too, I think there's little chance that they'll not enjoy themselves. I know myself, I was very much wanting to dive in and give the campaign a shot after watching the team at Eutechnyx play for 30 minutes; and if I liked it, as someone who's not into these types of games, then fans should eat it up.
Warhammer: Storm of Vengeance seems very much like one of those games that, once finished with the campaign, gamers will keep on their iOS device or laptop for a good long time and fire up any time they get a hankering for some Warhammer 40k action. There are a very few select games that make that cut for me (Doom, Star Wars Pinball, and Pac Man Championship Edition are a few), but I can tell you that, barring  Storm of Vengeance will definitely have a place in that 'permanent fixtures' folder. You can even play cross-platform, so whichever device you download Storm of Vengeance for, you should have little trouble finding a multiplayer match to slide into.
You can grab a copy for yourself when Warhammer 40k: Storm of Vengeance arrives (complete with DLC) on the PC  and iOS platforms on April 3rd.