Two of Marvel's biggest wackos go toe-to-toe in a fight to the finish this April. Or not- you can't really kill either one of them… can you?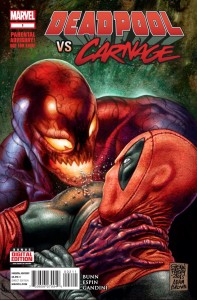 This is going to be a fun one- you can just kind of sense it. Cullen Bunn, who is fast becoming a master of all things Deadpool and penciler Salva Espin are teaming up to pit red versus redder with Deadpool vs Carnage #1. The book will see the uber-popular Merc with a Mouth hunting down spidey-villain Carnage as he rampages unchecked across the US, killing indiscriminately… uh, and I mean Carnage is doing the killing, not 'Pool. Just in case there was any confusion there.
"Cullen has been delivering some awesome Deadpool action with Deadpool Kills the Marvel Universe, …Killustrated, …Kills Deadpool, and now Night of the Living Deadpool, we knew he was just the man to give us the ultimate showdown of Marvel psychos, says Editor Jordan D. White. "And I would be hard-pressed to find an artist who loves drawing 'Pool more than Salva does! He brings so much joy and energy to every page. We knew these boys were good at depicting lowercase 'c' carnage…but wait till you see them tackle capital 'C' Carnage!"

"This is definitely a tale of hot pursuit, so we see Deadpool and Carnage squaring off against each other in a variety of locales," said writer Cullen Bunn, in an interview with Marvel.com. "They're on similar wavelengths of crazy. In a sense, Deadpool is the only person capable of taking Carnage down."
It's hard not to get excited about this one if you're a Deadpool fan or a follower of Spider-Man's rogues gallery. It's pretty easy to imaging that a knock-down between these two should be borderline spectacular to see. Bunn won't be pulling any punches with this one either (not that you'd have to with Deadpool and Carnage) as Marvel is promising that Deadpool vs Carnage will be chock full of "blood-soaked chaos". If you're a fan of either character or just like a bloody good action romp, you probably won't want to miss this one.
Deadpool vs Carnage #1 hits the stands this coming April from Marvel Comics.