Marvel Comics will be celebrating its 75th anniversary next year- and superstar artist Alex Ross is lending a hand.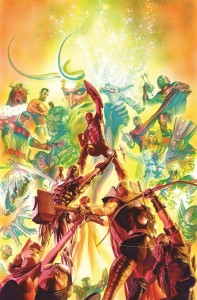 I'm a huge fan of Ross, who's Marvels for Marvel and Kingdom Come for DC Comics are two of the greatest series' in comics history as far as I'm concerned. His cover art, which is where you'll usually find his work, is always stellar as well and that's the subject of this latest news from the painter and Marvel.
Ross won't be just providing one or two pieces for the event though as he'll be doing several cover illustrations for the publisher's key books throughout 2014. It's all starting with January's Avengers #25, which is looking spectacular.
The 75th anniversary of one of the biggest names in comics with artwork by one of the greatest artists in comics- sounds about right. Look for Avengers #25 to hit shelves this January the 15th from the creative team of Jonathan Hickman, Esad Rabic and (of course) Alex Ross.