You look like you might be remembering something.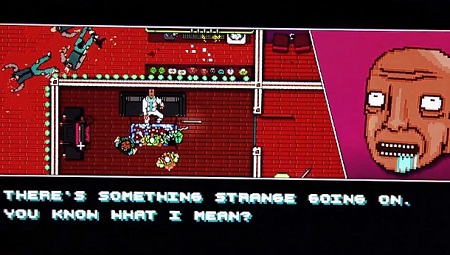 The original Hotline Miami was bloody, violent, challenging and, most importantly, huge fun.  So naturally, it was great news to hear that a sequel was in development, which will see you play through events both before and after the events of the first game.  Here's what we thought of our return to Miami.
Wrong Number keeps the same graphical and musical style as its predecessor.  There's a short tutorial to get you into the basic controls, which takes place on the set of a movie, and has you taking out various bad guys, and getting instructions from the director in the same talking head style as before.
When the game starts properly, you are acting out scenes from the movie which is a tribute to the killer in the first game.  You are part of a masked gang and, as before, there are masks you can choose which give you certain characteristics.  You have to take down everyone on each floor without getting killed so you can progress to the next one.  When enemies drop weapons, you can pick them up to use yourself.  It almost seems as though there's even more blood this time around, and the humour is just as twisted as ever.
The demo consisted of two levels, and there certainly didn't seem to be anything different between these levels and the first game.  But the original Hotline Miami was a heap of fun, and certainly more of the same is no bad thing.   We'll have to wait until release to see if there's anything new in the final gameplay, but for now, if you loved the first game, then you'll get a kick out of this too, and kick some baddies while you're at it.
Hotline Miami is scheduled for release in 2014 for PC, Mac, Linux, PS4 and PS Vita.