Yes, that Mutant Football League.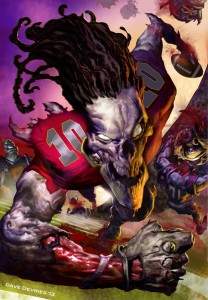 Mutant Football League is one of those games from the era of 16-bit that everybody has some great memories of. What's not to like after all about mutants and monsters bashing each other apart while playing football? It's so nuts that it's great. And now it's back… well, almost.
The game's creator Michael Mendheim, has brought the title back to audiences for consideration on Kickstarter. The master of mutants hopes to secure the funds that he needs to move the title downfield via crowd-funding and get it added to Xbox Live, the Apple App Store and the Android Marketplace.
Originally released in 1993 for the Sega Genesis, Mendheim promises that this is indeed the Mutant Football League that you remember.
"It's the 20th anniversary of the original game, so this is an ideal time to release a new over-the-top football game featuring monsters and mutants for the many fans who have been clamoring for it," stated Mendheim. "The fans have kept their interest in this genre alive over the years and we want to reward them for their loyalty. We will be creating a new and very different game that pays homage to classic monster sports games and parodies the owners, the coaches, the sponsors and everything else that makes football such a great American sport."
And it's not just Mendheim working on Mutant Football League either. He's put a pretty nice team of top shelf talent together for the project including folks who've worked on the Tony Hawk series, Call of Duty: Black Ops II Zombies and Spongebob Squarepants… oh, and did I mention Simon Bisley?
Michael Mendheim: Creator and lead designer of the original Mutant League series, writer of the hit Heavy Metal graphic novel, The Four Horsemen of the Apocalypse™.
Simon Bisley: Eisner Award winning artist (Lobo, ABC Warriors)
Dave Devries: Creator of The Monster Engine http://www.themonsterengine.com/ a popular children's art book, lecture, demonstration and gallery exhibition that explores the premise of what a child's drawing would look like if it were painted realistically.
Dave Elliott: Comic writing legend (A1, Weirding Willows, Heavy Metal)
Jay Lender: Writer and director of SpongeBob Squarepants and Phineas and Ferb
Micah Wright: Writer of Call of Duty: Black Ops 2 Zombies.
Robomodo Studios: Talent behind Tony Hawk series of games, Fight Night 3 and NBA Street.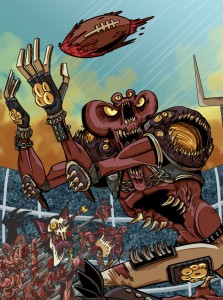 You can get to the Kickstarter page for the proposed game by clicking here. If you're still not sure if you want to back the project, let me leave you with this handy dandy little highlight reel of a bullet-pointed list. I'm pretty sure that if the promise of making your own team of freaks doesn't get you to pony up, then the fact that you can actually have a team of robots face off against a squad of undead will.
Mutants vs. Monsters – 30 vicious teams featuring a variety of awesome, fully customizable Monster and Mutant characters including: Mutant Humans, The Undead, Battlebots, Orcs, and more!.
Maximum Carnage – Inflict devastating mayhem on the opposition with punching, kicking, bombs, clubs, axes and even chainsaws.
Killer Stadiums – The stadiums are filled with crazed and obnoxious weapon-wielding fans, and the fields are strewn with hazards, traps and debris. No field is the same, and all fields are deadly.
Dirty Trick Plays – These are mean, nasty, unfair and lowdown plays intended to hose the opposition, or if that doesn't work, kill them.
Customizable Creatures – Create and name your own team and players, assign players a position, train them with skills and abilities, give them attack moves, add armor and weapons and let them loose!
Tongue-Through-Cheek Humor – A fun, entertaining and off-the-wall parody of the NFL, with all the excitement, hard-hitting action, lunacy, unspeakable greed, corporate ruthlessness, hypocrisy and over-the-top egos that professional sports has to offer.