Keiji Inafune, the creator of beloved franchise Megaman, has just launched a Kickstarter for his newest game yet, The Mighty No. 9.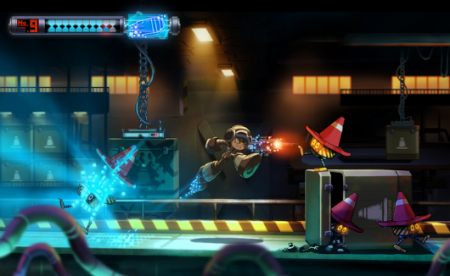 This title is perhaps his most surprising one yet, as it pays respect to not only classic 8 bit and 16 bit games, but Megaman and Megaman X games as well. Indeed, the main character Beck is a spitting image of the blue bomber. In fact, even the gameplay is Megaman in nature, with its side scrolling action combined with shooting elements. You can even steal the powers of your fallen foes as well. There's also other concept art shown alongside the character Beck, with a fair amount of robotic enemies, including ones that appear to be the metools of The Might No. 9 universe.
Even the storyline itself  pays homage to the Megaman games. The story is classic Megaman X; a virus is spreading worldwide and infecting all of its robots. You play as Beck, the sole robot that isn't afflicted by the virus. Pretty simple in nature, and gets the job done. The project itself has a goal of $900,000 and so far has already reached over $150,000 and counting with 30 days left to go. The game is expected to be released in spring 2015, and will be available on Wii U, 360, PS3, and PC.