Lord Baltimore heads to Budapest on a collision course with destiny… and one damned train.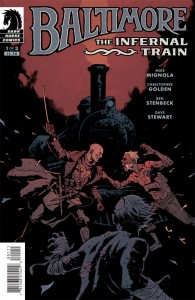 Though I've never read a single issue of Baltimore in any form, I'm a big fan of Baltimore co-writer Mike Mignola and his Hellboy and BPRD series' that see regular publication by Dark Horse Comics.
Mignola has a particular way of intertwining the supernatural and the mundane up in a bow and then adding a shot of humor to all of that, that you don't see all that often. The characters in his books often just feel human and not 'invincible'… even when they are.
Baltimore: The Infernal Train definitely has some of those sensibilities, but it's a far darker story than either of Mignola's more famously known properties. Perhaps that's the addition of co-writer Christopher Golden. Whatever it is- it works big time here.
When the story opens, the Earth is in its death throws. World war and a vampire plague have ravaged the landscape and humanity teeters on the brink. Enter Lord Baltimore, war weary and on the hunt for a specific vamp-lord named Haigus, Baltimore finds himself called to Budapest to meet with a religious fanatic Judge named Duvic.
Budapest is in the process of erecting a wall to keep out the undead bloodsuckers and is fast becoming a haven for people trying to get away from the horrors of the world at large. Everything's more or less going according to plan until a woman arrives with her invention- a series of ovens that are made to incinerate the dead before they can turn. And that's when things start getting really weird.
One of the first things I noticed when I cracked open the first issue of The Infernal Train is the art of Ben Stenbeck. The artist's work is both detailed and realistic, but maintains a heavy tinge current of the fantastic throughout. Lord Baltimore himself is suitably the anti-hero in look and act, a fact that the script revels in for most of the story. At times Baltimore doesn't really seem to care much about the residents of Budapest, which I guess might be because he doesn't- at least not right away.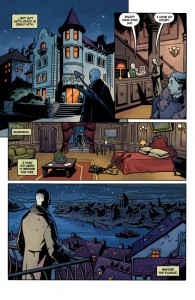 As for the vampires, which are split into two castes in the world of Baltimore, they're pretty freaking awesome if I do say so myself. On the one hand (and I'm not giving away anything here) you have you're snarling, mindless hordes of the bitten- and then you have your aristocracy. The upper crust of the vamp world look just like humans… only with glowing red eyes. They command their zombie-like minions towards a mysterious goal like pets.
And those minions look pretty incredible. Like I mentioned, these aren't your sparkly, shiny vampires looking for love. They're rotting, dagger-toothed and relatively mindless. What? You didn't really think that anything involving Mignola in any way would be anything less did you?
Final Thoughts
That's the beauty of horror, to me anyway, is when it's done right (which is exceedingly rare) it can keep you guessing and on the edge of your seat all the way through. The Infernal Train gets almost everything right in this aspect (at least in the first issue). Even as someone who's not read a single issue of the previous three volumes of the book, it's enjoyable and relatively easy to pick up on thanks to the terrific writing that gets you caught up (enough) in the first few pages.
I'll say this too- The Infernal Train easily made me way to read the first chapters in this relatively long-running story. It's a real page-turner in every sense of the word and is hugely enjoyable to the point that I just wished it was longer.
Vamp fans, Mignola fans and (obviously) Baltimore fans shouldn't hesitate to check it out.