Tozai Games has just brought the highly difficult platformer Spelunker to the Wii U virtual console and eshop.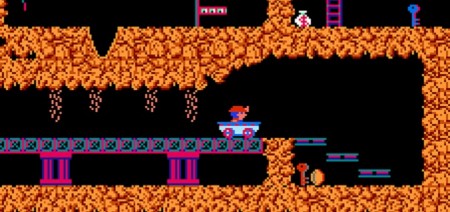 Spelunker was released on the NES in 1985 for North America and 1987 for Japan. Widely played by video game aficionados, this game is  best known for its punishing difficulty and engaging platforming. The object of this game is to descend deep into dangerous caverns, climbing your way down until you reach the treasure at the bottom. On your way you will encounter a number of hazards and obstacles, and the penalty for failing to avoid them is not forgiving.
The character functions much like Jumpman does in Donkey Kong, in other words very strict. Falling down too far results in your death, jump height is relatively small, there's no momentum while falling, and touching just about anything kills you in an instant.
Besides all of the quirks such as getting caught on ladders and dying, as well as ropes, and elevators, you also have to contend with a series of enemies such as bats and ghosts. It can be a rewarding experience, but only if you're willing to expend a greater amount of time and energy into it.
You have to be sharp and persistent if you're to reach the end of this highly challenging game. So if you're man enough, try it out for yourelf on the Wii U virtual console and 3DS eshop.