Well, not literally. He didn't break it or anything, his comics are just now available on it for your downloading/reading enjoyment.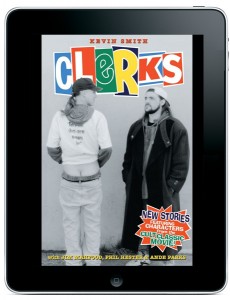 I actually didn't even know that director/comic shop owner Kevin Smith made comic books, but indeed he does and they're now available on digital reader extraordinaire comiXology.
The platform is hosting everything Graphitti Designs and View Askew made from Clerks to Chasing Dogma and even the Tales from Clerks collection. All of the above are available with the company's patented 'guided view' technology too, something they say will deliver a "triply" reading experience. Being that this is Kevin Smith we're talking about, that was probably a foregone conclusion anyway.
Arriving officially on April 20th, the addition of the View Askew collection coincided with the road trip/promotional tour for Jay & Silent Bob's Super Groovy Cartoon Movie. ComiXology is supporting the tour, which will see stops in a whole mess of cities with 14 stops overall. You can keep track of the wheres and whens, by following the tour on  Twitter, Facebook or Google Plus.
As for the comics themselves, you can get them right here:
Kevin Smith's View Askew universe crashes comiXology

,
Jason's been knee deep in videogames since he was but a lad. Cutting his teeth on the pixely glory that was the Atari 2600, he's been hack'n'slashing and shoot'em'uping ever since. Mainly an FPS and action guy, Jason enjoys the occasional well crafted title from every genre.