HeroClix is crossing over to iOS with some new DC Comics figures and accompanying App debuting today.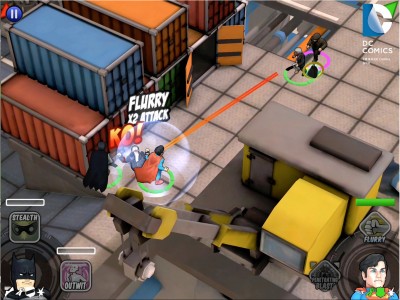 The HeroClix brand has been around for a while now and has figures representing a multitude of licenses (both past and present) under its banner. For a long time though, the company's figures were only playable in tabletop games. I haven't had the chance to try the iOS versions of HeroClix, but it's looking like a seriously cool time.
TabApp Elite, new from WizKids/NECA and MFV, allows players to use upcoming HeroClix figures in the iOS game a la Skylanders or Disney's upcoming Infinity.
"TabApp(TM) Elite takes HeroClix TabApp to the next level, expanding on physical and digital integration," said Justin Ziran, president at WizKids/NECA. "Players can activate and transport multiple physical figures in game, enjoy fast paced action and enhanced visuals while customizing their play style with each figure's Combat Dial(TM)."
This kind of physical and digital interaction has really been catching on as of late. Activision's Skylanders is absolutely huge and Infinity is looking like it's poised to make quite the splash as well- I can't imagine that TabApp Elite couldn't have similar success, especially considering the licenses that it'll boast.
The first addition to the game is the DC Universe, with figures based on the New 52 versions of some of the most classic characters in comics. DC Comics Superman starter pack comes with a Superman figure and a ClixStation (which allows your figures to beam into the game) for $14.99. Also out now is a booster pack that includes both Batman and an 'ally' Wonder Woman figure.
TabApp Elite (the software) itself is a free download for either the iPad or Android devices (through Google Play) and original TabApp (not Elite) DC Comics figures are compatible with the game as well- all the figures are compatible with the tabletop game as well and each one comes with a code to unlock the character in the online version of TabApp Elite.
You can find the DC Comics HeroClix figures at specialty stores (and online and brick & mortar retailer) Hastings right now.