For those wondering if the Mad Titan would be making his presence felt in the Marvel comic book  Universe as well as the feature film version, the answer to that would be 'yes'.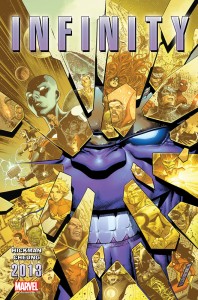 Infinity is a brand new mega-event from the publisher that will set the heroes of the Marvel U, including the likes of Superior Spider-Man as well as the X-Men and the Avengers, up against Thanos in "The grandest Marvel Comics event of all time - INFINITY!"
Those are some tall words considering the publisher's history. Find out if Thanos can make them ring true when Marvel gives fans a taste of Infinity on Free Comic Book Day. The special first look will be titled Free Comic Book Day: 2013 and will be brought to you by the creative team of Jonathan Hickman and Jim Chueng.
Look for it on May 4th at comic shops everywhere… and keep an eye out for Thanos while your at it. Not that a nine foot tall, purple dude could really sneak up on you but it's always good to be prepared.
Jason's been knee deep in videogames since he was but a lad. Cutting his teeth on the pixely glory that was the Atari 2600, he's been hack'n'slashing and shoot'em'uping ever since. Mainly an FPS and action guy, Jason enjoys the occasional well crafted title from every genre.