It might be yet another TMNT action figure line, but The Loyal Subjects' BST AXN manages to make a nice niche for itself.
The BST?
How well do you know your Teenage Mutant Ninja Turtles toys? I think pretty much every fan is more than a little familiar with Playmates' classic figures from the 80s/90s, and most probably know the multiple modern lines from NECA and Super7. But how familiar are you with The Loyal Subjects?
Originally TLS was the producer of four inch, super-deformed vinyl figures. The company made it's name off of the cute and fully articulated line, securing monster-sized properties for it, like Masters of the Universe, Aliens, and yes even TMNT.
But after a few years, The Loyal Subjects was looking for something new, and it was found with BST AXN. A new line of 1:15th scale figures that looked to pump out toys with quality sculpts, maximum authenticity, and top notch articulation. While it seemingly took a while to catch on, BST AXN did so massively with the Ninja Turtles.
Renaissance reptiles
Starting with the classic cartoon Turtles, TLS new line dove right into the iconic IP, serving a style of figure that differentiated itself enough from what was out there, while still keeping the above tenets in effect. In addition to the 80s TV show, the series even rolled with some Mirage designs, before announcing something all-together new, with figures based on the IDW Comics.
Around for years, publisher IDW's books tell a long-form story that has so far worked in almost all of the original TMNT themes and characters. Still in publication as a monthly, the comic has even brought over some of the 2012 cartoon's stuff, for a cohesive TMNT saga that's pretty much hit on everything.
You might be wondering why a company hadn't picked up the reigns for action figures, if the comic was so great. Honestly, I have no clue, but whatever the case, it was to The Loyal Subjects' benefit. Now with a core team out, and Shredder arriving (from Hell), this new series is indeed shaping up to be quite radical.
Fresh from the sewer…
The packaging design of the new Turtles line is quite a bit different from the rest of the collection. This might be a new look of the whole thing and it's just starting with TMNT, but I'm not sure about that. Whatever the case, it's definitely eye-catching.
Thankfully, the all-paper boxes of some other lines was eschewed for BST AXN. The boxes here have a nice clear window on the front, always great for those looking to find the best-looking fig on the pegs. On the bottom you have the TMNT logo, while the top has the character name.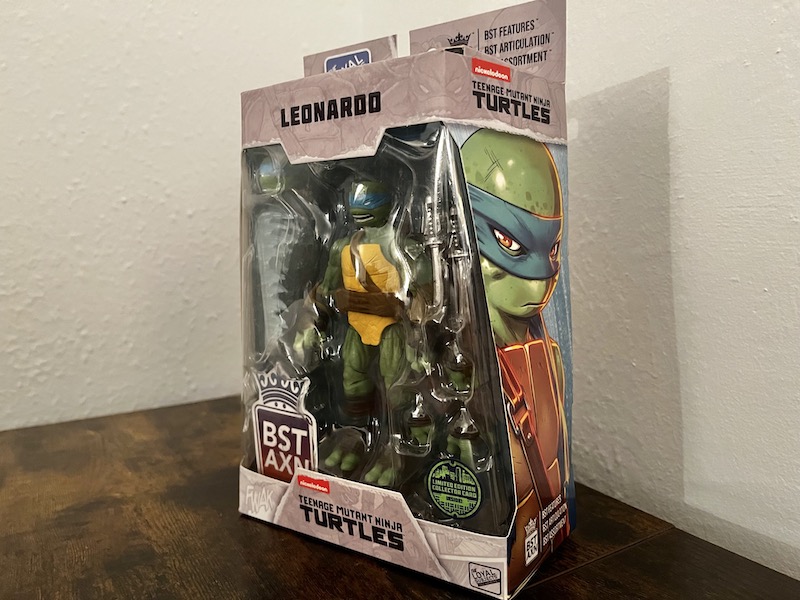 Both sides carry art from the comic's own penciler, Mateus Santoloucco. So if you love the art from the books, then you're going to be seriously temped to keep these boxes, even if you're an opener. The back of the pack includes a picture of the figure itself, with a little bit of info about Leo included for good measure.
And once you crack him open, you'll find a full tray of accessories, a collector card, and even a little sticker of The Loyal Subjects' logo.
Shell-shocking design and articulation… with a possible issue
One of the first things I noticed about this figure, was just how different it looks than all the other Turtles stuff out there. I know I covered this already, but the comic book designs by Santoloucco are carried over beautifully into the physical realm with this figure.
Unlike his cartoon-themed figure from the company too, the IDW Leo is war-torn in some great ways. TLS had made it well-known that these figures are meant to feature heavy wear-detailing, and if this one is any indication, they definitely are. Leo has scars and breaks in his shell, and just generally looks like he's battled more than a few Foot Soldiers in his young life.
He's also sporting a fairly unique face and body sculpt. A big difference between TMNT properties of the past and IDW's comic, is that each brother looks a big different. So you can tell who's Leonardo and who's Raphael from their silhouettes. Of course that's adapted to the toy line as well, but Leo being Leo, he's sporting what's a general mid-weight build. He's not too thin and not too heavy basically.
That body is well articulated too, with 31 points that allow for some freaking great poses. Leo has double-joints at the elbows and knees, as well as thigh-cuts, wrist and ankle joints, a ball at the neck, and butterflies at the shoulders. As you can see, he can get into some terrific poses too, and has solid balance to assist with that (check out the image with the kick below – no hand support for that).
So yeah, most all of the articulation works great, but there are two exceptions, and the first comes by way of the swappable portraits.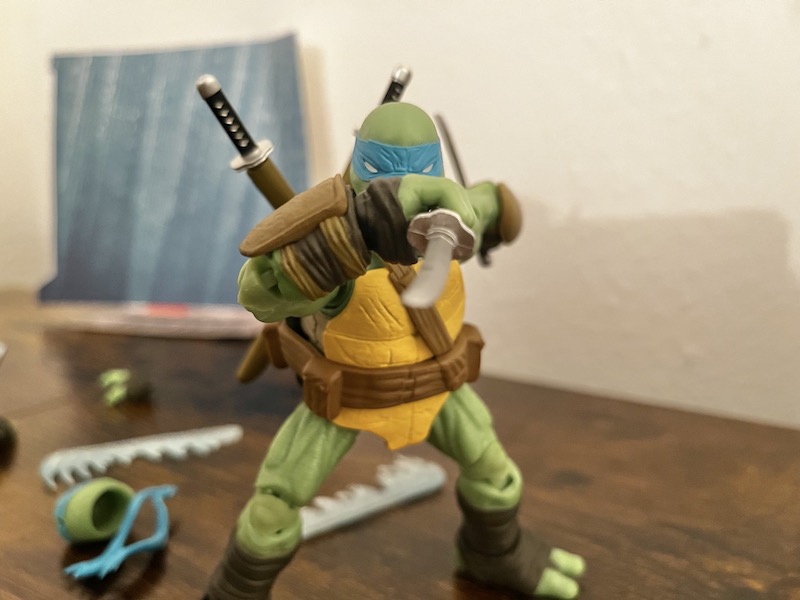 Trouble in Turtle-town
Leo has two head sculpts included, and both look great. But it's not so great trying to get them in place. While the shipped-head worked great (on and off), I had a ton of trouble getting the second 'stoic' sculpt into place. It was way too tight, and I ended up half-breaking off his katana sheathes while I was trying to wedge it on. This isn't really that big of a problem, since there are two attach-points for those sheathes, but it was still a bummer and is something to be aware of.
As for that second, it's the butterflies. Now, I have to point out that this might just be my figure and it may not be a widespread problem, but nevertheless Leo's flies are pop-prone. His left one just pops out and in as you pose him, which is annoying but not that big of a deal. The right was significantly more aggravating though. That one popped out as I tried to get his arm into place for a shot, and didn't really want to go back. I did manage to fix it, but it took a while and now it's identical to the left.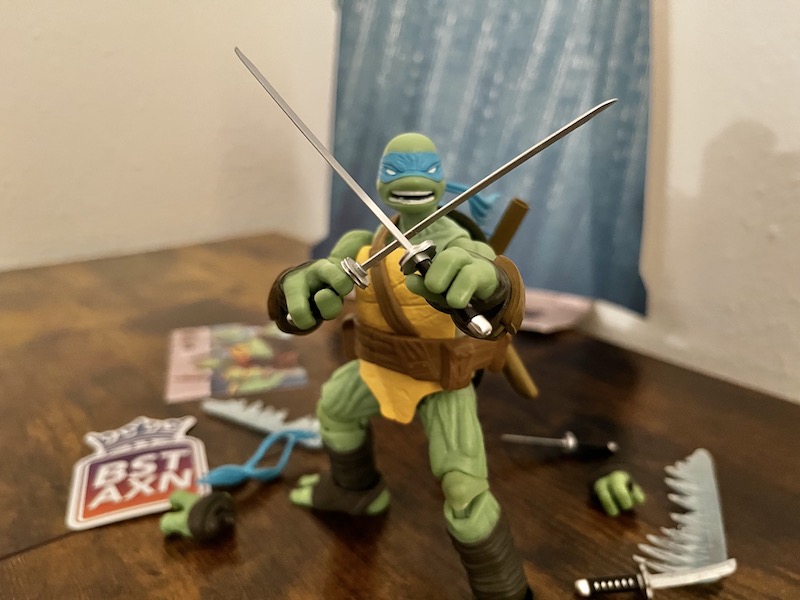 What I don't want to do though, is give you the impression that it's just going to fall out of a pose. That's not gonna happen, but it's very likely when trying to get Leo into a pose. Again too, I have no idea how widespread this issue might be, so take it as a caveat.
Full loaded ninja
Okay, so the figure isn't perfect, but what it is is loaded. Packed with accessories, The Loyal Subjects' Leo does something else as well, that I don't think any other TMNT figure line does right now. Not only do you get weapons and extra parts, but you get effect pieces too.
While there aren't a ton of them, you get two 'swooshing' effect pieces, that can slide right over the katanas. These give the feel that Leo is swinging his blades, and maybe bringing them down on some hapless Foot, or an Utrom or two.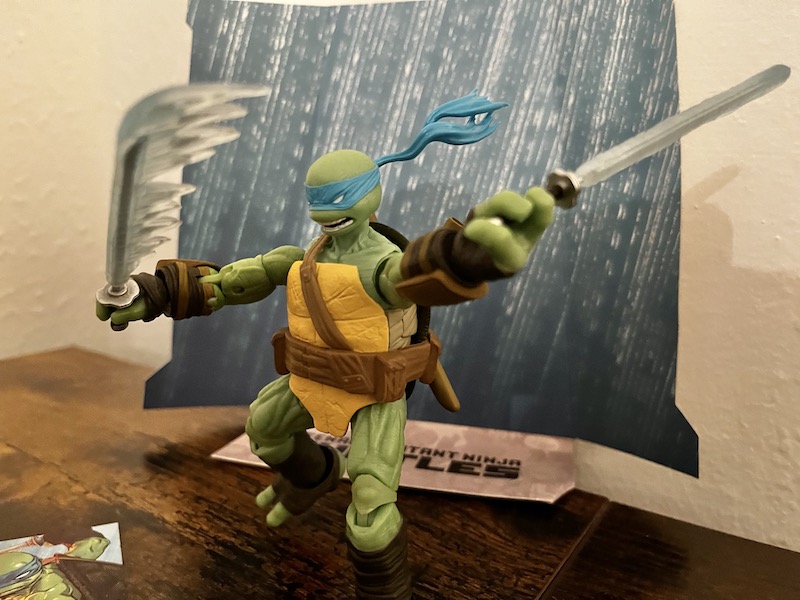 Speaking of, this figure includes not only twin katana, but also dual daggers, three sets of hands, the aforementioned two portraits, and two pair of bandana-ends (one for each portrait). As a cool addition to the bandanas too, the tails can be posed to a degree, so you can convey a nice sense of motion to your poses.
Also notable is that the hands are not nearly as difficult to swap as the heads. I had no trouble with any of them, though I'll also throw in that one set of grasping hands was a little tougher to get weapons into than the other. Not impossible, they were just a little rigid so I had to be extra careful not to break anything… else.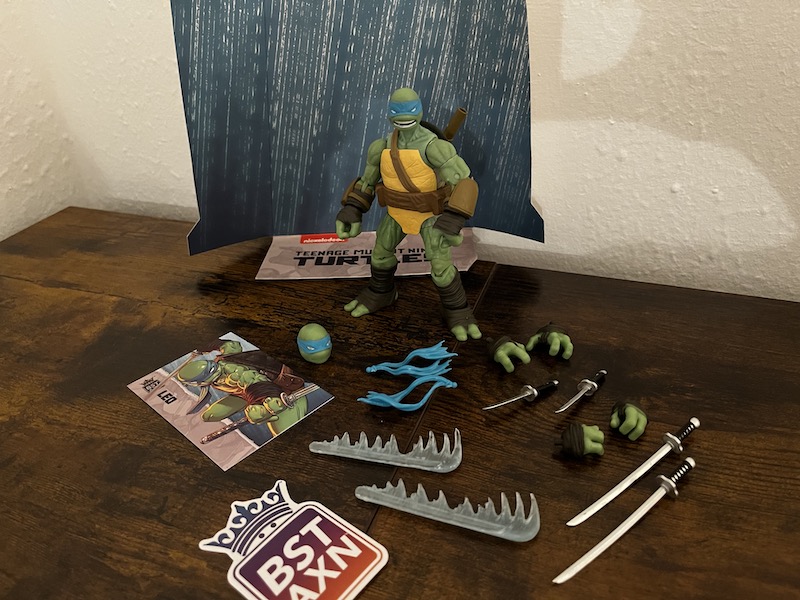 As mentioned above too, there's a kind of a backdrop included in the box, though you'd definitely want to tape the side-panels to the bottom if you were going to use it as such. Also as stated, there's that neat trading card, and a sticker with a The Loyal Subjects logo on it.
Overall
While there are downsides for sure, I liked this figure a lot. TLS sent over Leo and Don, so there'll be a review of the latter popping up very soon as well, but as for the other two, I've gone ahead and ordered 'em. Despite the issues, which I admittedly consider fairly minor, Leo is a terrific looking figure, and something truly new for the TMNT license. I'm hoping we see more from the modern comics in the months to come.
A review sample of Leonardo was provided by The Loyal Subjects for this review
IDW Publishing's Teenage Mutant Ninja Turtles: Leonardo
Manufacturer: The Loyal Subjects
Line: BST AXN
MSRP: $21.99 USD
A solid start
Packaging - 78%
Quality and Design - 70%
Extras - 87%
While you might not think you need to collect another TMNT line, The Loyal Subjects' new IDW-influenced series does a lot to set itself apart from the pack. For one thing, there's the 1:15th scaling, but also these designs are very different from what's been included in other mediums. The figures are well articulated, and sculpted as well, and include some great accessories. Just be aware, there might be some quality control issues hiding within.