If you haven't been following Playmobil in the last few years, you've missed a lot. Namely, sets devoted to some of the 80s top properties.
Mustache included
First off, we're talking about the classic version of Magnum P.I. here. Yes, there is a currently running NBC show with the same name that's rebooted the Tom Sellick-starring original, but this new Playmobil set is not that. Instead, the toy-maker has harkened back to that original long-running show, and that means baseball caps, mustaches, and fast cars. Or 'a' fast car anyway.
But while the Playmobil set isn't representative of a full line, it's remarkably well put together as a standalone item. Fans will find plenty in this one that represents the icon well, including a terrific selection of characters.
From Oahu to you
Taking place in Hawaii lent itself to all manner of beautiful scenery in the original Magnum, P.I., and Playmobil played off of that well for the packaging here. The front of the box is splashed with images of the stars of the set, including both Thomas Magnum and his Ferrari 308.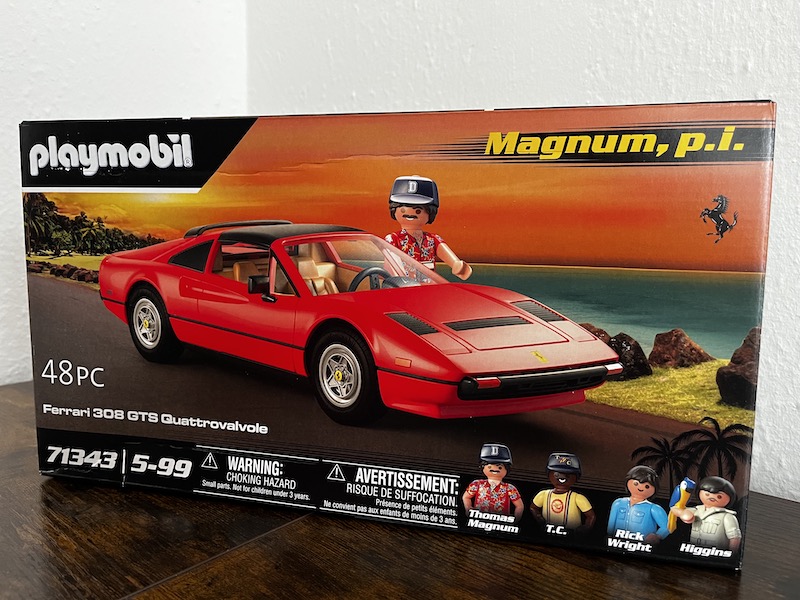 The character is set against a sunset, with the main cast showcased at the bottom, and both the Magnum, P.I. and Ferrari logos at the top. On the back, fans will find a neat little diagram showing off the finer points of what's included, along with a few more posed images. Just a note though, as this set includes standard Playmobil figures with no extra features or articulation. So you can't actually remake the pose in that polaroid.
On the side of the box is an easy rip opening, allowing you to get inside and dump out the baggies. Yes, much like with other 'building sets' you may or may not have, Playmobil ships parts in little plastic bags. There are only three of them though, and while there might technically be "48" pieces included, this isn't a time-consuming collectible to assemble whatsoever.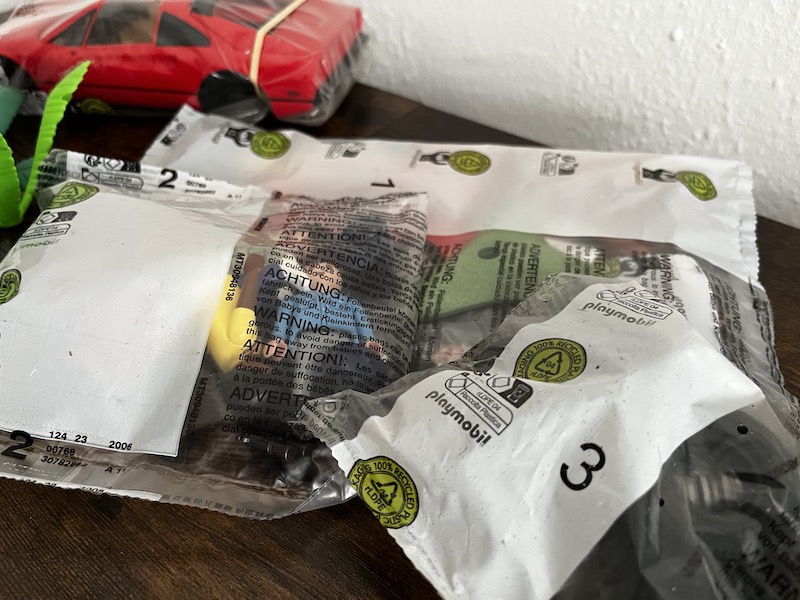 Also kinda neat, is that the instructions come complete with bios for all the characters. Just a cool little addition that I thought was worth pointing out.
Building out a classic
So as I mentioned, there isn't a ton to 'build' with Playmobil in general. That's true here for the Magnum P.I. set too, as all of the figures come completed already, and the car is mostly assembled as well. Though that's not to say there isn't some stuff to do, so I'll cover that here.
First, with the figures, you do have to add accessory items like Magnum's Tigers cap, and handheld stuff like the binocs and the camera. None of that has to be put together in any real way though, so the most you'll have to do is to attach the neck-straps (which are a rubbery material instead of strings).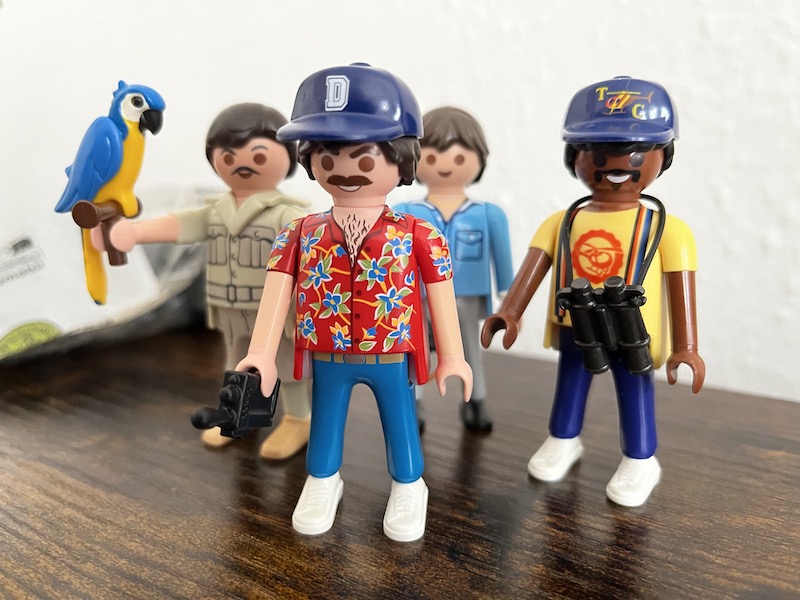 The palm tree on the other hand, which is an awesome little addition that I loved, does need full assembly. All you have to contend with though are five parts. The trunk plugs into the base, and then you add the two sets of leaves and the coconuts… and that's about it.
As for the car, that's a little tougher, but only because it's a bit of a struggle to get the rubber tires on. Once that's done, you add the caps, load in the pieces that attach the wheels to the car's body, and that's it. While they're a slight pain in the backside, the rubber wheels really do add a lot to the car's presentation.
The gang's all here
As you can see, this is a nicely 'complete' set. All told, the box includes the Ferrari, Magnum, TC, Rick, and Higgins. And not only does each figure carry the (base) look of its named character, but each one also has an accessory item.
TC comes with binoculars, Magnum with a walkie, and Higgins with one of his parrots. Unfortunately Higgins' dogs are nowhere to be found, and there's also no pistol included for Magnum. But hey, this is Playmobil, so we'll probably have to excuse that.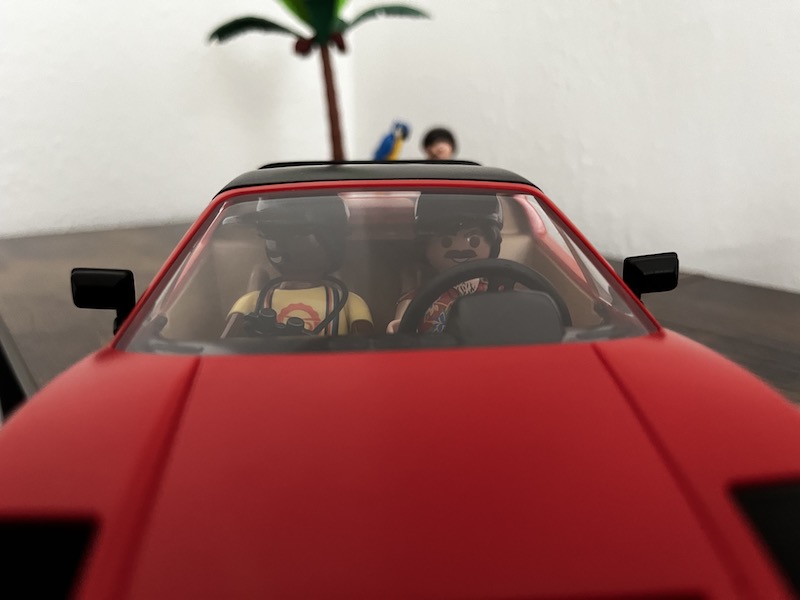 Another caveat too, because as I mentioned earlier, these can't really be posed all that great. Playmobil figures don't have elbow articulation, and so you can't really have Rick even lift his camera up to his face to take some imaginary snaps.
It's a result of a form-factor that's been around for decades, and there's really nothing that's going to be done about it. But while the figures might have some limitations that hinder, the Ferrari is absolutely fantastic. Included is an extremely cool representation of the 308 GTS Quattrovalvole, and is actually pretty fully featured to boot.
Included with the car are some nice details, like little Ferrari logos on the hubcaps, an accessible engine in the rear, and raising and lowering headlights. Those are triggered by little buttons on the underside of the front bumper by the way, although said buttons are a little bit of a bummer.
Instead to popping the lights into place (either direction), they just nudge them up. You actually have to pry them the rest of the way and lock them into place yourself. I actually thought mine was broken for a minute, but I think that's just how they are, and I do have to imagine the mechanism could have been done better.
Overall
So here's the big question: do you love classic 80s TV or are you a big Magnum P.I. fan? If you can answer in the affirmative to either of those, then this set is probably for you. Yes, you do have to have a love or at least tolerance for the Playmobil aesthetic, but if that's also you, then this set is a ton of fun that hits all the right notes.
A review unit of this item was set to BrutalGamer by Playmobil for this review
Magnum, P.I. Ferrari 308 GTS Quattrovalvole set
Manufacturer: Playmobil
MSRP: $79.99 USD
Dun-dun-dun-dundadun...
Packaging - 76%
Quality and design - 85%
Extras - 80%
If you've been looking for a Magnum P.I. collectible of any kind, Playmobil's set should fit the bill. One of the few physical items dedicated to the 80s series, it includes all the major characters, the awesome Ferrari 308, and even a palm tree. There might be a few thing that could have made it even better, but this is some top notch stuff.