It certainly seems as though the great Macy's experiment has worked out for Toys R Us, as the returning toy store is ready to take flight.
The wild blue yonder
Has Toys R Us had a heck of a ride the last few years, or what? First, the brand folded completely in the US, then had a short series of false-restarts, before finding a home in Macy's department stores of all places. But if you were thinking that might've been an iffy proposition, you might want to think again.
That's due to the fact that the new line of shops is expanding, and it's not into another host store. Now, don't get too excited because it's not exactly a standalone brick and mortar either, but TRU's new digs are definitely cause for some optimism.
Today WHP Global, which is new the parent company of TRU, has revealed that Dallas Fort Worth International Airport will play home to the first ever Toys R Us shop in an airport. The opening is in partnership with Duty Free Americas, and will see the store open in the nation's second busiest travel hub this Holiday. That's right, Christmas 2023.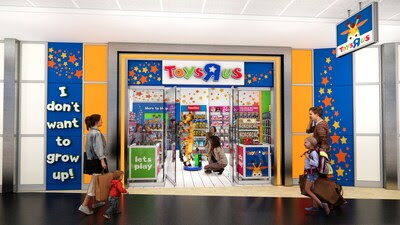 "We are thrilled to partner with Duty Free Americas to introduce the first-ever Toys"R"Us airport store, an exciting new concept that we believe could roll out in airports around the world," said Yehuda Shmidman, Chairman and CEO of WHP Global.

WHP Global press release
Modern, but familiar too
Those heading to the store will find a "life sized" Geoffrey the Giraffe statue to greet them, all ready for some Holiday photo-fun. Of course, there'll be toys as well. The store will feature a "curated selection of toys and games from the hottest brands". And in keeping with TRU's modern turn, patrons can also expect to see demo tables throughout, so kids can go hands-on with select goodies.
Whatever WHP Global's overall plan is, it seems to be working. According to the company, Toys R Us has experienced 50% growth since the acquisition. Aside from the aforementioned Macy's launch too, it has returned internationally to India, the UK, and Mexico.
Not only is that great for the brand and its new parent, but it's fantastic for kids, collectors, and fans of all ages. The return of an international, dedicated toy store? Yeah, that's awesome.