While the header image is a familiar one, don't get lost in the X-nostalgia, as there's a heck of a lot of Venom and Carnage coming up this summer.
Sun's out, symbiotes out
Yes, it's going to be a long, hot summer in the pages of Marvel Comics Lemon-related titles. That much was revealed late last week with the announcement of the "Summer of Symbiotes" crossover issues.
The event marks a few landmarks for the publisher, including the intro of a bunch of new symbiote-characters, and the 35th anniversary of Venom himself. And let's face it, without him there'd be no Carnage, Life Foundation… or really any of this stuff.
So what's happening to mark that occasion? And what's Summer of Symbiotes anyway? Well, the answer to the former is pretty simple, and the latter is a little more of a mystery.
Basically though, SoS will have a whole spread of "ongoing series, limited series, and crossovers" hitting the shelves. Those will feature the likes of "Venom, Carnage, Red Goblin, and many more", in a "chaotic" "symbiote showcase" that promises to coalesce into in the Death of the Venomverse.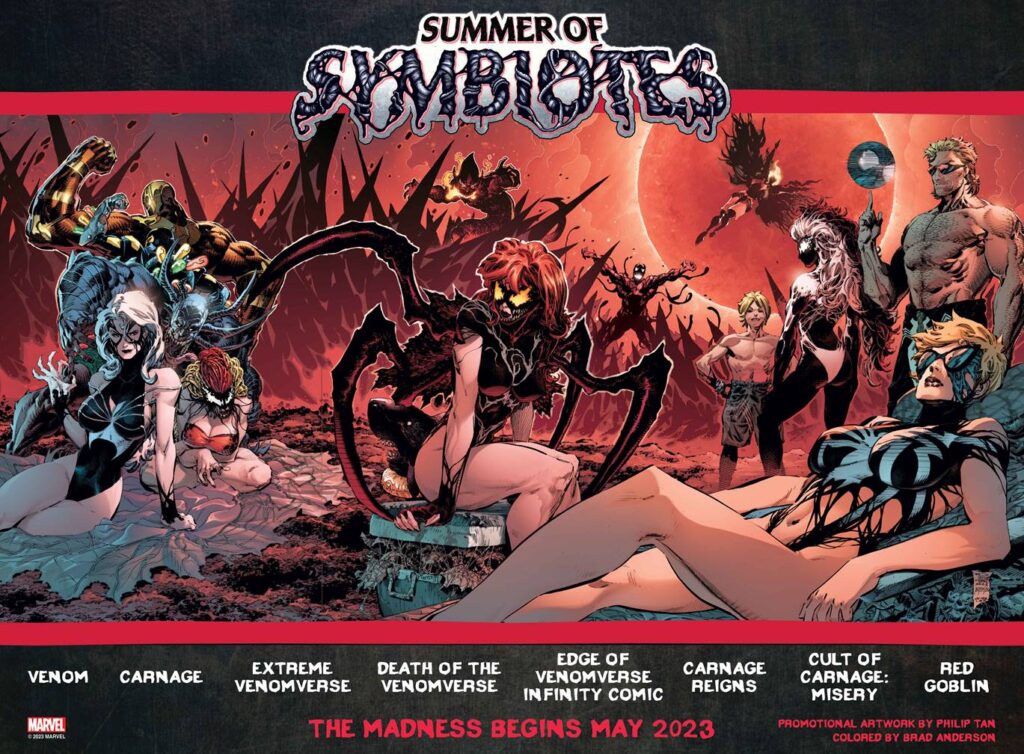 Oh, and as for that aforementioned header, yes indeed it is meant to harken back to the Marvel swimsuit pinups of the '90s. That of course would be the iconic art of the likes of Jim Lee, Scott Williams, and Joe Rosas.
As for the actual crossover though, here's what you can expect to start this May:
VENOM
Crafted by a mastermind team of Al Ewing and Cafu and others, Venom's current ongoing series will continue to explore the transformative journeys of both Eddie Brock and Dylan Brock. A saga spanning time and space, Eddie has come face to face with the worst parts of himself in the form of new villain Bedlam while Dylan has followed in his father's footsteps, embracing his own symbiote and becoming a new Marvel hero. And this summer, their symbiote family is about to grow even larger…

Marvel Comics press release
CARNAGE
The most terrifying villain in the Marvel Universe has returned! Cletus Kasady is back in Alex Paknadel and Francesco Manna's CARNAGE ongoing series. With a renewed purpose, Venom's psychotic offspring is ready to unleash his vengeance on an unsuspecting Marvel Universe and ascend to a glorious new role. After he takes care of Miles Morales, of course.

Marvel Comics press release
EXTREME VENOMVERSE
In the same spirit of Edge of Spider-Verse, this landmark new series will take readers to uncharted corners of the symbiote hive with brand-new stories by all-star creators! Witness jaw-dropping turning points for symbiote icons and see never-before-seen Venoms bear their fangs for the very first time including the debuts of a symbiote-hosting Felicia Hardy, a Venom samurai, a Venom spaceknight, and more!

Marvel Comics press release
RED GOBLIN
Spinning out the pages of VENOM, a deadly new Goblin takes to the night sky in this ongoing series by writer Alex Pakandel and Marvel Stormbreaker Jan Bazaldua. On stands now, the thrilling saga stars Normie Osborn who's received his own symbiote and embraces his grandfather Norman's legacy by becoming the Red Goblin! But will Normie fulfill his dark destiny as an Osborn – or will he and his symbiote strive to make a difference for the better?

Marvel Comics press release
CARNAGE REIGNS
A brutal crossover between MILES MORALES: SPIDER-MAN, CARNAGE, and RED GOBLIN pits Miles Morales against Carnage in what promises to be Miles' darkest battle yet. With his soul trapped within the Extrembiote Armor created by Tony Stark during King in Black, Cletus has the means to level an untold amount of chaos on New York City. But like any good Tony Stark invention, the Extremis coursing through Cletus' symbiotic veins needs POWER, and that means Cletus is HUNGRY. Good thing Brooklyn's very own Spider-Man is there to stand in his way!

Marvel Comics press release

CULT OF CARNAGE: MISERY
The mother of all symbiote stories from writer Sabir Pirzada and artist Francesco Mortarino, starring Liz Allen as the new Misery! The limited series kicks off when the Life Foundation symbiotes, Toxin and the others, are mysteriously stolen! But by whom? And WHY?! Regardless, it's up to Liz to save the symbiotes before they can fall into the wrong hands – and unleash untold havoc across the Marvel Universe!

Marvel Comics press release
EDGE OF VENOMVERSE INFINITY COMIC
Even Marvel Unlimited isn't safe from the SUMMER OF SYMBIOTES! Learn about an exciting upcoming symbiote series coming to Marvel Unlimited at the Marvel Comics: Spider-Man & the Venomverse Panel at C2E2 2023! 

Marvel Comics press release
DEATH OF THE VENOMVERSE
It's all leading to this! The epic adventures above are spiraling towards an explosive destination, and not all your favorite symbiotes will survive the journey. The Carnage symbiote is more bloodthirsty than ever and heads to the multiverse for its greatest killing spree yet. But what is it after? Find out more when this upcoming limited series is announced at the Marvel Comics: Spider-Man & the Venomverse Panel at C2E2 2023!

Marvel Comics press release