Ripped from the Clone Wars animated series is this new reveal from Hot Toys. Star Wars' favorite Ahsoka Tano will be shipping very soon.
From animation to live action
It's been quite a journey for Ahsoka Tano, Anakin Skywalker's Padawan during Star Wars' Clone Wars. The character was originally disliked by fans, before becoming a favorite and eventually making the leap from animation to live action in The Mandalorian.
And just as the hero is about to begin her own series (coming up later this year), she's also set to join Hot Toys lineup of collector figures. A new 12″ figure of Ahsoka is planned for… this month?
Yep, apparently Hot Toys isn't waiting on this one, and will be shipping the figure post haste. Check out then First Look video below.
The Ahsoka Tano 1/6 Scale Figure features:
Detailed likeness inspired by Ahsoka Tano in Star Wars: The Clone Wars
Newly developed hand-painted head sculpt (with poseable eyes feature) 
Newly sculpted blue and white striped montrals™ and lekku equipped with bendable wire for posing
1/6 scale body with over 28 points of articulation
7 interchangeable hands for a variety of posing and display optionsOne poncho with weathering effects
One finely tailored blue and gray tunic with attached apron
One undersuit 
One pair of gauntlets 
One pair of knee guards
One pair of calf guards
One pair of boots 
One pair of blue lightsabers
One pair of blue lightsabers with "blades in motion" effect (attachable to the hilt)
One thermal detonator
One holoprojector
One hologram figure of Anakin Skywalker
One hologram figure of Obi-Wan Kenobi™
One hologram figure of Yoda™
Specially designed figure display stand with character nameplate and Star Wars logo.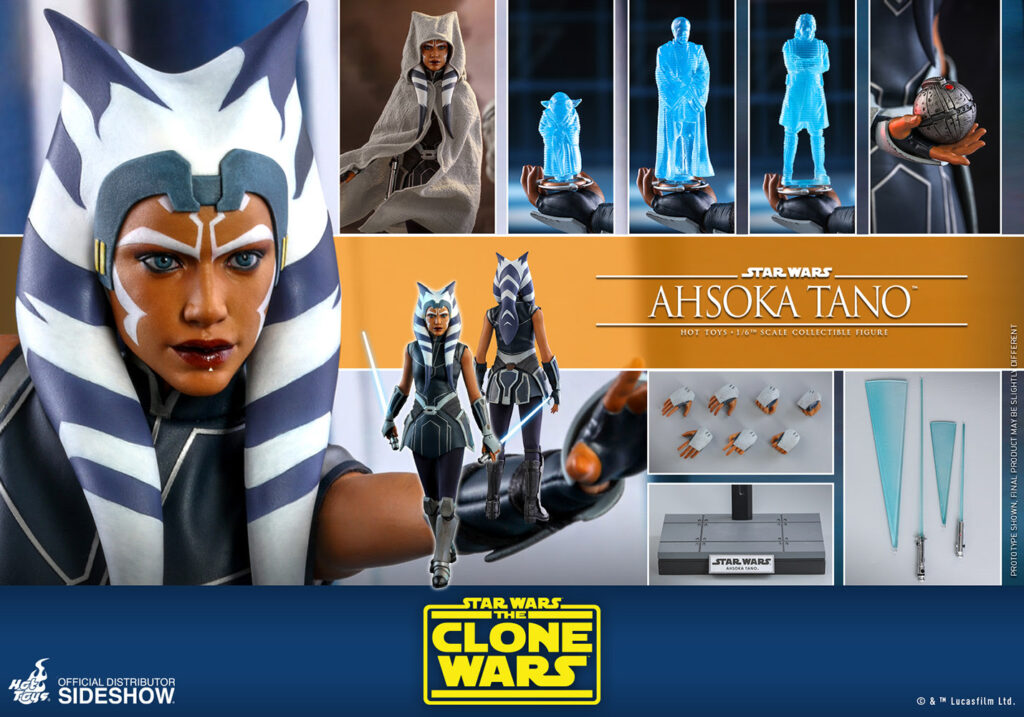 Ahsoka is still available for pre-order, but again is shipping soon. And by that, I mean she's scheduled for this month. Grab one via Sideshow.