Sideshow's Court of the Dead is back and ready to scare up some more afterlife action. War of Flesh and Bone lands in stores this month.
Etherial enemies
An original IP from Sideshow, Court of the Dead has been surging in recent years. Originally released as a series of statues, the property has birthed much more. Action figures, collector toys, and a series of graphic novels have all debuted since it launched.
The latest of the books is War of Flesh and Bone, a title from publisher Insight Editions. Crafted by Frank Tieri and Ivan Koritarev, the newest tale in the set pits the total factions against one another in a trial by combat.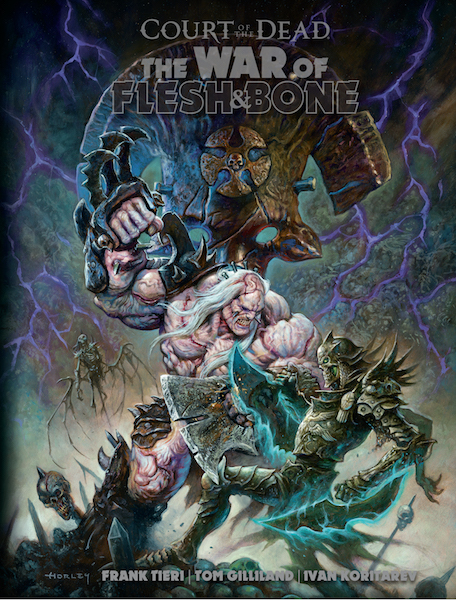 Three factions lead the Underworld in their secret rebellion against Heaven and Hell. Only through their unity will they defeat the Celestials, yet two of the faction leaders are constantly at odds. Gethsemoni, leader of the Faction of Flesh, and Xiall, leader of the Faction of Bone, pit their pride against each other in the training arena: Gethsemoni's gargantuan golem Odium must fight Xiall's stalwart soldier Mortighull. Odium is a raging juggernaut of sheer muscle and might. Mortighull is a swift and canny skeletal warrior. The fight between the two spans the length and breadth of the Underworld, in a battle that extends beyond a mere training exercise. Odium and Mortighull are treated as pawns in the War of Flesh and Bone, but where their leadership has lost sight, they struggle to find new purpose in the face of an even larger threat.

Insight Editions
Court of the Dead: War of Flesh and Bone is pried in at $35 USD, and is set to ship out on December 14th, 2021.