Wireless listening gets active. Helm audio delivers a new wireless headphone that aims squarely at performance while hitting the gym.
Helm on
I've had the good fortune of reviewing a number of headsets and headphones here on BG. With the amount of them we've had coming through the site over the years, I like to think I've developed a bit of an ear as to how good one is over another.
The latest that we've gotten is from a company called Helm Audio. It's wireless, and of the design that allows for a kind of harness to connect the earbuds. This piece rests on your neck, behind your head.
While that's not my absolute favorite form factor for a pair of buds, I can't argue with basically anything else that this headphone does. It has excellent sound, some nice bells and whistles, and some of the most awesome battery life you're going to find anywhere.
Plug 'n' play
Like any set of modern bluetooth headphones, the Sportband HD takes nothing at all to setup and use. All you need to do is set it to pairing mode, and search it out via your device (tablet, phone, whatever). Once connected, you're good to go, and it'll auto-connect when switched on.
So it's easy as pie to get going, and I'm happy to say that the Sportband HD tends to remain that way. Always a good thing, the headphones remained connected for me with no drops, and offered uninterrupted sound.
One nicety as well, is that when you're not using them, they feature a magnetic clasp. So if you're not going to take them off, just pop the comfortable (and customizable) buds out of your ears and they'll lightly clasp together while dangling from the connective neckpiece.
It isn't the most secure of things, so don't use that connection point to hang the Sportband HD's from on a hook (for example). But why would you do that anyway, given the 2 storage cases that Helm includes?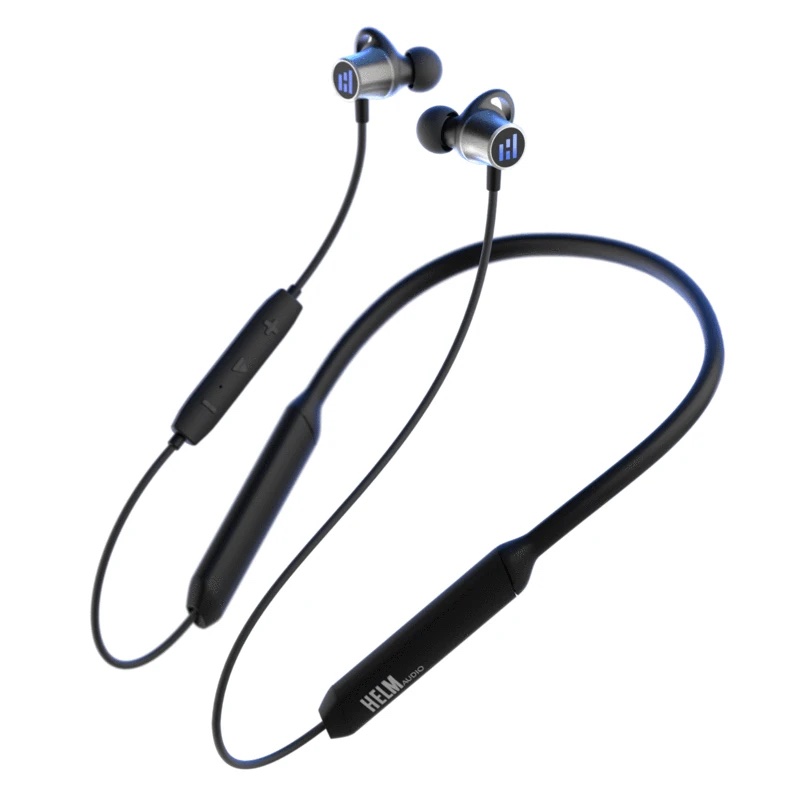 Feature-packed
So the main element that Helm is looking to with the Sportband HD is right in the name – "sport". To put it simply, the headphones are meant to be for active people who'll use these for working out, etc. There are several elements that go into making them ideal for specifically that use.
For starters, the Sportband HD's are extremely lightweight. Even with the inline controls built into the right bud's cord, these are some of the lightest-weight headphones that you're likely to find. I've used them for my workouts for a few weeks now, and they're as good as I've tried.
In fact I've switched from my normal means of music, that being a bluetooth speaker, to using these. That's how comfortable they are. The only slight annoyance is that the neckpiece flops off while reclining on the weight-bench. And honestly, is that a big deal? Not really.
On top of that too, they're water resistant. Rain, sweat, and anything else will be little issue for these. Just don't submerge them in the wet stuff, and you should be good to go.
And if you are out in the elements, the Sportband HD has a lighted feature as well. This is meant to keep you visible while you're outdoors in low light. While it's not exactly a Luxor beam blasting out of your ears, you do get a cool blue glow that pulses on the backside of the earpieces.
Top notch sound
To put it simply, even with all of those bells and whistles, the Sportband's sound is the real star of this show. The quality is excellent, and has a nice depth that you won't get with a cheaper set of headphones, or even with Apple's own AirPods. Yes, the sound is good with those, but the bass is non-existent. Not so with the Sportband HD's, as these can get quite deep.
The Sportband features triple driver tech to that end, which you've no doubt seen before. That triple speaker setup is seen in a good chunk of the higher end headphones out there. They also have "APTX HD low latency technology" and AAC. This is all to boost the sound quality, and Helm seems to have gotten a terrific result from it all.
Also most definitely worth mentioning is the battery life and the connection range. Helm boasts a 25 hour charge for the Sportband HD's, which is frankly excellent. I'm used to headphones needing a recharge while I'm on a two hour phone call, so over two dozen hours seems insane to me.
As for the connection range, I can attest to no loss of signal moving a room away from the source.
Overall
There's a lot to like with these phones. They're awesome if you're looking for something to use at the gym (if you have gyms open near you) or out for a jog/bike ride.
Honestly though, these are just a terrific set of headphones in general, for just about anything. And given the incredible battery packed into them, they shouldn't conk out on you halfway through your song, call… or for that matter, day.
A sample was provided by Helm Audio for this review
Sportband HD
Release date: Available now
Manufacturer: Helm Audio
MSRP: $129.99 USD
All day tunes
Ease of setup - 95%
Utility - 90%
Proficiency - 93%
The Sportband HD's from Helm Audio feature a lightweight design, comfortable earbuds, excellent sound, and stunning 25 hours of battery life. They should fit in quite nicely for anyone looking to upgrade their workout gear, or just on the hunt for a great new set of phones for daily use.