November 7th might've kind of snuck up on Mass Effect fans this year, but the annual celebration of the series has definitely been noticed by Dark Horse.
N7
Do people still celebrate Mass Effect day? I really don't know, since the series is pretty much in stasis after Andromeda failed to set the world on fire. Though, that's not to say that the series doesn't have its fans still, because it definitely does.
If you are one of those still paying attention, then you've no doubt realized that today is November the 7th. And of course, that's been the day to note all things ME for years.
This year too, the day has a double purpose. Not only is it Mass Effect day, but it's also the day to celebrate the 25th anniversary of developer BioWare. And to that, Dark Horse has a number of cool announcements.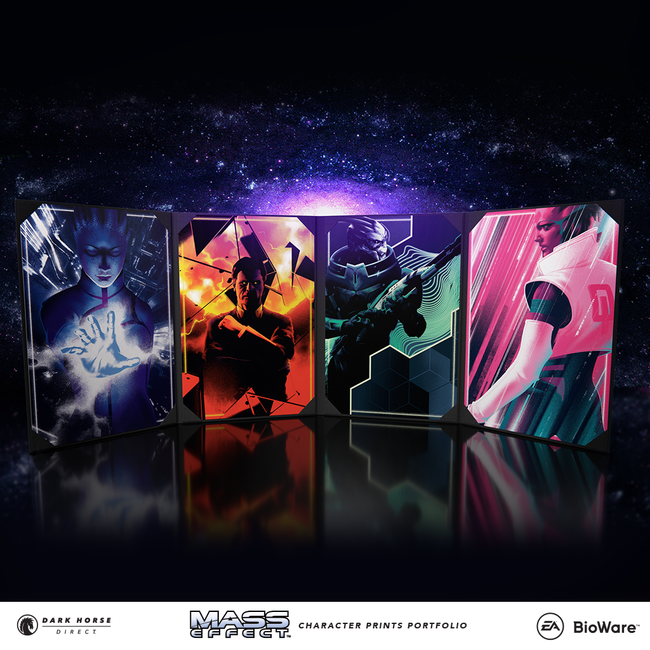 Limited to just 250 units, the Mass Effect Character Prints Portfolio features the artwork of Matt Taylor showcasing a main character from an iconic Dark Horse Comics series: Liara T'Soni from Mass Effect: Redemption, The Illusive Man from Mass Effect: Evolution, Aria T'Loak from Mass Effect: Invasion, and Garrus Vakarian from Mass Effect: Foundation! As an added bonus, every purchase of the Mass Effect Character Prints Portfolio will include a digital comics redemption code for the 784-page Mass Effect: The Complete Comics on Dark Horse Digital! 

Dark Horse Comics press release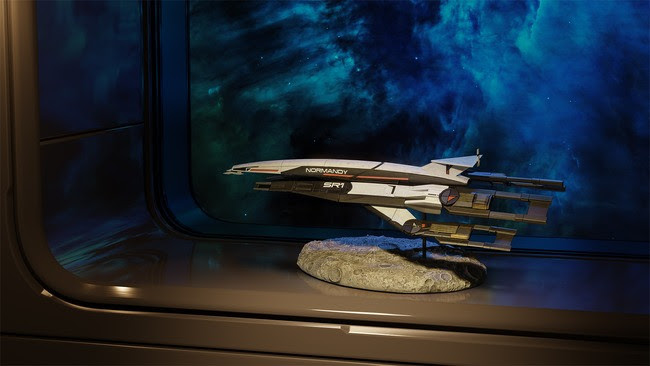 Dark Horse Direct and BioWare are also celebrating with a 14" long, 5.6" wide Alliance Normandy SR-1 Replica! Perched upon a pocked moon terrain base, this starship is made with polyresin by the masters at Gentle Giants Studios. Limited to a run of 500 units, be sure to pre-order yours today! 

Dark Horse Comics press release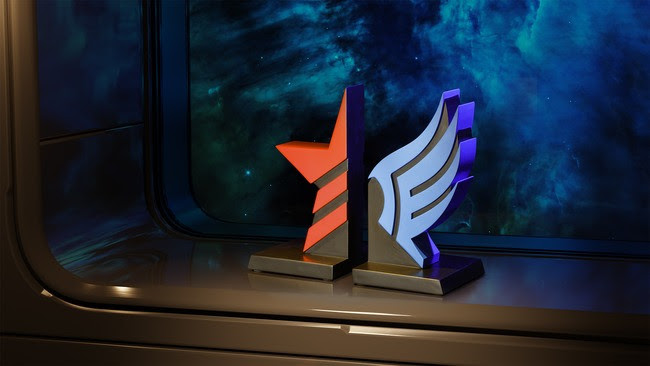 And finally, limited to just 1,000 units, you can show off your love for Mass Effect with this set of iconic Paragon & Renegade Bookends from Dark Horse Direct! Each piece of this set stands at 8.5" tall and 4.25" wide, and together make the perfect addition for organizing your Mass Effect collection!

Dark Horse Comics press release
Look for the Portfolio to start shipping out before the end of this year, fromDecember through January. It'll run you $125.00 USD. The bookends will be a little longer, and ship this coming summer with a price tag of $99.99 USD. As for the Normandy replica, that will clock in at a beefy $249.99 USD, and be ready to be added to your collection late next year.
All of the above will be exclusive to Dark Horse Direct, and you can check 'em out here.