Hasbro's Marvel Legends retro-kick is expanding, adding a vintage Fantastic Four design. Oh, and an awesome Doctor Doom figure too.
I am Doom!
Unexpected and pretty freaking awesome on several fronts is today's news out of Hasbro. The company has just announced that its "retro" packaging line is expanding into Fantastic Four territory.
If you're unaware, the retro cardbacks already include Marvel Superheroes, Spider-Man and X-Men looks that play off of the respective Toy Biz' toy lines from the 90s. Each issuance includes one of those vintage-inspired cards instead of the usual Marvel Legends box.
Some of the various figures offered in this manner have been simple re-decos, but most have not. That includes the recently released (excellent) Spider-Man wave and today's big reveal – Doctor Doom.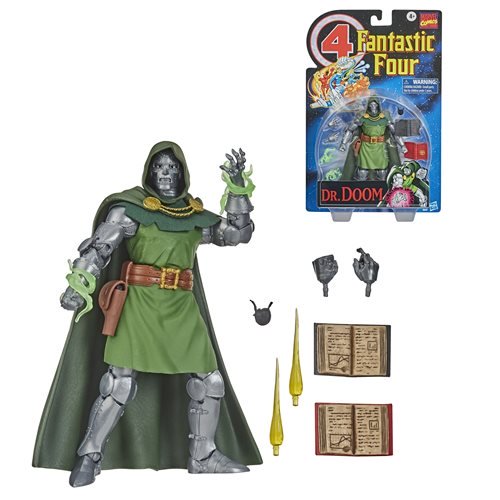 Clad in his classic green tunic and silver armor, Doom is 100% the villain in this new figure. It looks like the Doom from the old Toy Biz figures and FF animated series, but also the character at his most iconic.
Far from a basic release, this Doom will include a bevy of accessories. They include a few tomes of arcane knowledge, spell effects, and more.
Doctor Doom will cost you $19.99 USD if you order from Hasbro's own Pulse web-store (still available at time of this writing). He's also available elsewhere of course, including for $20.99 USD from Entertainment Earth.
And as usual, if you do order from EE BrutalGamer will receive a small commission from your purchase.