No lie or exaggeration, Super Impulse's "World's Smallest" line is one tiny series of toys. And that includes some cool little G.I. Joes.
Yo Joe!
An evergreen property at first glance, that's only sort of true when it comes to Hasbro's G.I. Joe. Yes, there are Joe fans everywhere and of many different age groups, but quite some time can pass between actual toy lines.
There were the original sixth-scale figures of course, from way back, which then morphed into the iconic 1/18th scale 80s-era figures. That form-factor has almost exclusively been the norm ever since. Well, till now anyway.
Hasbro has just begun a new era for Joe, a 6″ era. While those figures are somewhat divisive among fans, they seem to be catching on, and the future looks bright. But there's another scale joining that 1/12th line… sort of.
World's Smallest is an impossibly small line of toys from Super Impulse. How small? They're about an inch tall. Yes, that's correct.
But lest you think these will be lacking in all of the thing that make action figures 'action figures', think again. World's Smallest come with their own little blister cards, accessories, and yes, they're even posable. Well, a little.
Let's dig in.
Build Quality
Solid. These Joes are shockingly solidly made figures. Yes they are spindly, given the very human form-factor that they're cast in. These are 'Modern Military' action figures, remember.
That said though, they're also not going to break if you look at them funny. Likewise, they're not at all brittle, but are instead of a softer make, so they're fairly sturdy. This actually makes the joints a little hard to position though, as they're a tad gummy. I was worried about the Duke in specific, so I didn't move him around all that much.
And there's articulation too! World's Smallest G.I. Joes aren't just teensy tiny little statues. While they don't have a ton of articulation, they do sport three points, with rotation at the shoulders and neck. So you can actually get them into some poses on your shelf/Metroplex' shoulder.
Aesthetic
I think the best thing I can say about the aesthetics happening here is that these look like the original Joe figures. Like, they look exactly like them.
Now Super Impulse sent us Duke and Snake-Eyes, but you can clearly see the level of detailing and paint on these from the pictures. I'd have to imagine that Roadblock is the same quality. It's great, plainly.
There are some little things here and there, like Duke's bandolier not extending all the way down to his waist, but overall this is good stuff. And though I hate to say things like this, it's excellent for this scale. Just don't expect any washes or detail painting and you'll probably dig it.
Would I have like these to be more articulated? Of course, I'm a collector who actively displays his figures. But just as they are, they're a ton of fun and really cool to look at, as small as they are. I must mention the cards too. They're a little bit of a mixed bag, though more good than bad.
While the World's Smallest G.I. Joes come in plastic blister packs, there's a second piece of packaging within before you get to the figure. That comes in the form of a size appropriate 'card'.
This is meant to keep, and store your figures in. It's sized to the figure, and is hard plastic, with stickers on it to simulate card art. As you can see though, the art is a tad 'off'.
Duke's card has art from G.I. Joe Retaliation (I think), even though the character is from the original cartoon and the front of the blister has the 'correct' imagery. Snake-Eyes doesn't have this issue (if you consider it that), which actually makes it weirder.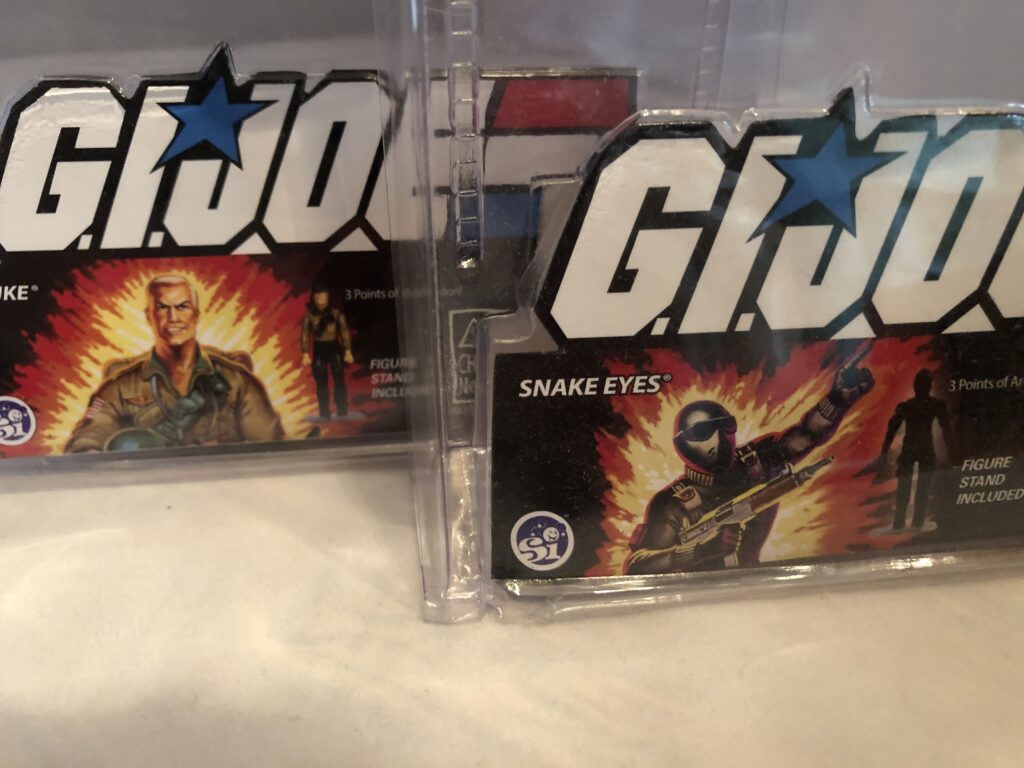 Extras
Weapons and accessories at this scale? Yep, you better believe it. Snake-Eyes comes complete with his binocs, his gun, and a loaded ammo strap. Duke has his helmet, backpack, and rifle.
Everything looks great, as with the figures themselves, and mimics the classic original accessories really well. One thing though, and this isn't really a complaint, they're really tiny.
Watch what you're doing and don't lose anything. Especially when you take them out of the box.
Overall
So, all things considered these are great little figures. Really little figures.
Now, I think it's important to note that we have no idea just how many of these will be made. Like, will there be Cobra troops? Will we get more Joes? Maybe an accompanying vehicle or two? No clue.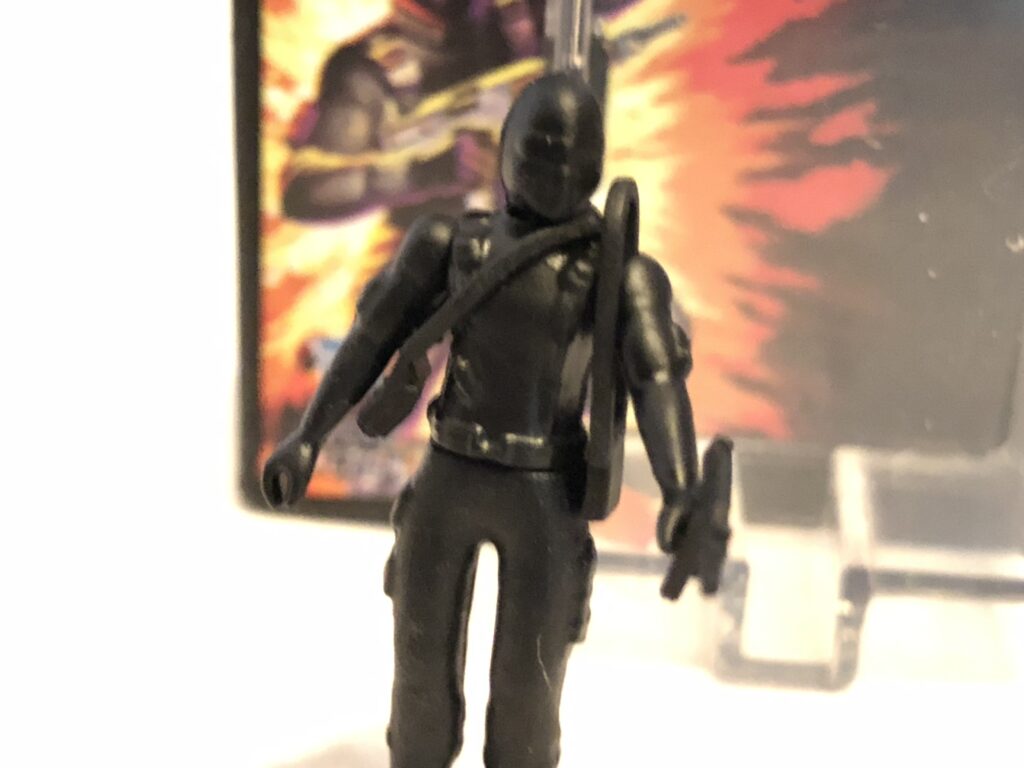 So if you're looking to collect a 'line', then you might be out of luck because these could be one and done. Then again, maybe that's a good thing, because it'd mean that the line would be really easy to collect. And I guess it would lose some of its 'specialness' too.
If you're just taking one wave into consideration, these figures are undeniably neat and incredibly unique. And as a curiosity for big G.I. Joe fans to count as a part of their collection, the World's Smallest G.I. Joes are tough to beat.
World's Smallest G.I. Joe – Duke and Snake-Eyes
Release date: Available now
Manufacturer: Super Impulse
MSRP: $21.99 USD (bundle with Duke, Snake-Eyes, and Roadblock)
Build Quality - 73%
Aesthetic - 80%
Extras - 80%
The World's Smallest G.I. Joes are tons of fun. The tiny figures sport solid paint and sculpts, plus their appropriate accessories, like guns and backpacks. They aren't perfect, and you can definitely nitpick, but overall these little Joes should make for a cool addition to any fan's collection.