Picking up where the remade collection of Crash Bandicoot's first 3 games left off is part 4: It's About Time. And honestly, it kind of is.
He's back
Did you think the Crash Bandicoot N.Sane Trilogy was a good looking restart for the amazing marsupial and crew? Well, it was, but wow does It's About Time blow it out of the swamp.
Activision announced the game yesterday, complete with a bunch of screen shots and a great looking trailer that's not afraid to poke fun at itself. The game a slightly slicker look, but is also instantly familiar.
Throughout this adventure, players will uncover four Quantum Masks, the guardians of space and time, that will give them the ability to bend the rules of reality and gain advanced ways to conquer dangerous obstacles. Today we're revealing the Time Mask, which slows everything down, and the Gravity Mask, enabling bandicoots to platform upside down. Fans will see an evolution of the Crash they know and love, equipped with advanced gameplay mechanics like wall running, rail grinding and rope swinging. They'll be able to play as Crash or Coco on their journey to save the multiverse, and new playable characters, including the fiendish Neo Cortex, will also emerge to provide an alternative perspective on our hero bandicoots' quest to defeat their nefarious nemeses.

Activision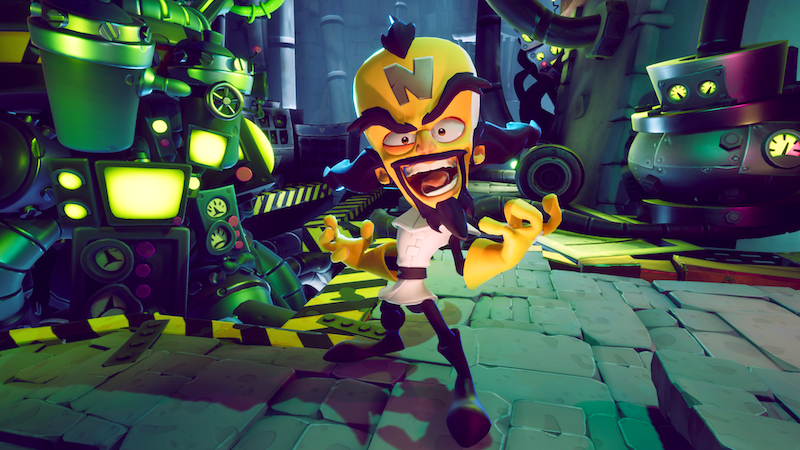 Funny, seemed like more
Crash 4 here is a brand new start (or re-start) for the character, and the first new Crash in a decade. Coming from developer Toys for Bob (of Skylanders fame), Crash 4 picks up the action with the evil trio of Neo Cortex, N. Trophy, and Uka Uka returning in a brand new story.
But as the developer points out, Crash 4 isn't just about a new story. It's also about staying true to the classics.
"Crash Bandicoot 4: It's About Time stands on the shoulders of the core precision gameplay we all fell in love with in the '90s," said Paul Yan, Co-Studio Head at Toys for Bob. "This epic new adventure spans space and time, introducing new ways to platform that both long-time fans and new players alike will enjoy mastering. Get ready to fall in love with the mutant marsupials all over again!"


Paul Yan, Co-Studio Head at Toys for Bob
Crash Bandicoot 4: It's About Time lands on the PS4 and Xbox One this October the 2nd.