The Infinity Stones are back. Yes, again. This time they're tumbling into the hands of a new selection of Marvel heroes in Infinite Destinies.
Infinitely infinite
"We've had a wave of incredible new characters over the last few years, and INFINITE DESTINIES will shine a light on eight of them,"  Editor Nick Lowe said. "We'll discover new aspects of these heroes and villains in adventures with our the most archetypal Marvel heroes."

Nick Lowe
New aspects indeed. Even for Infinity Stone stories, this one seems a little weird. That's because the Stones aren't being held by anyone this time around. This time, they are people.
The Stones have bonded with individual Marvel characters this time. And of course, it's up to these new characters, and Marvel's greatest as well, to figure out what's happened and what exactly is happening.
That'll involve Iron Man to kick things off, as the Armored Avenger investigates the kidnapping and torture of one Miles Morales.
Writer Jed MacKay (Black Cat) and artist Ibraim Roberson (Old Man Logan) kick things off in IRON MAN ANNUAL #1. When Iron Man learns about the strange people who kidnapped and tortured Miles Morales, he HAS to look into it. What he finds out about the Assessor and especially Quantum will shock him…and you!

Writer Gerry Duggan (Marauders, Cable) and artist Marco Castiello (Doom 2099) will then turn the focus on the fugitive known as Overtime in CAPTAIN AMERICA ANNUAL #1. After breaking out of death row when the Time Stone chose to bond with his soul, Overtime was gifted powers he barely understood. Now, thanks to Captain America… his time is up.

Marvel Comics
Backing up
Of course, things don't stop with that singular tale. And to keep you up to date with all the happenings, Marvel has released the checklist that you see here.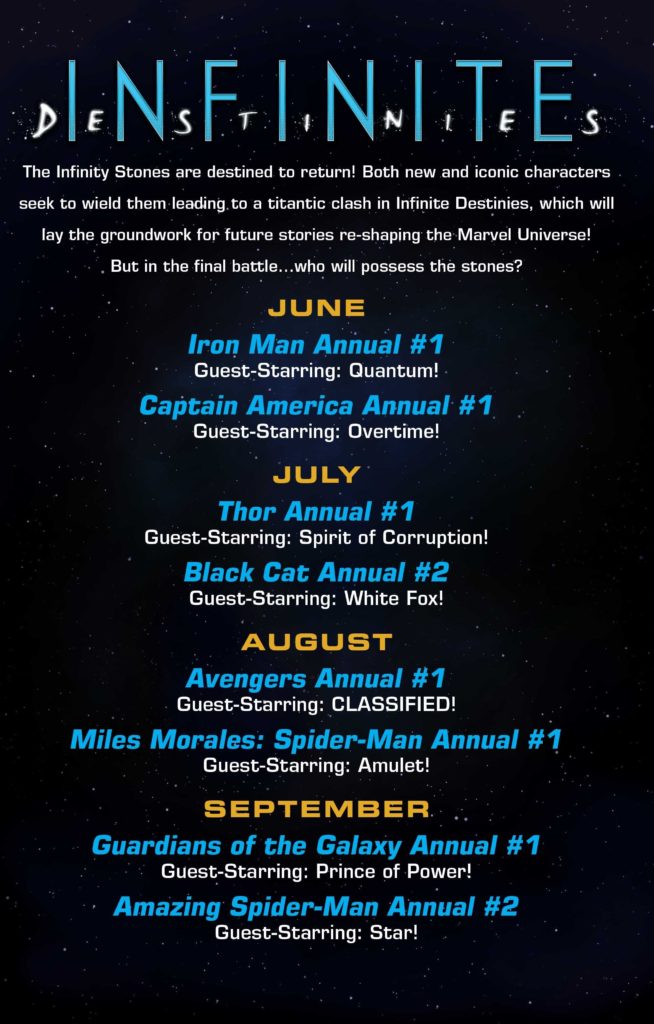 There's also one more little tease for now, which sees two of the publisher's biggest super-spies going toe to toe.
Each annual will also contain a chapter of "Super-Spy vs. Super-Spy," a story following Nick Fury as the Agent of Nothing and Phil Coulson as the Agent of Mephisto — two brothers-in-arms who will face off and reunite for the first time since Coulson's death.


Marvel Comics
The first installment of Infinite Destinies hits stands in the Captain America and Iron Man Annuals, both #1's, this June.