Nintendo is betting on weary travelers as their next group of Switch adopters, with demo stations heading to select US airports.
Just don't miss your flight
We've seen plenty of Nintendo pop-ups appear in shopping malls, usually around Black Friday, every year. This though is something entirely new, and it's a kind of interesting idea too.
The video game giant will be installing Switch-themed pop-ups in some United States airports this week. The booths won't be sales experiences either according to Nintendo, and will offer comfortable seating, as well as charging ports for your devices.
Of course, the focus will be placed squarely on the Nintendo Switch. There will be Switches installed at every "Nintendo Switch Lounge", including those setup in TV mode and handheld versions. The idea there is to show that the Switch is a great little entertainment companion, both at home and in… an airport.
"With a vast library of exciting entertainment to launch into, we hope travelers discover that Nintendo Switch and Nintendo Switch Lite make great companions for their trips," said Nick Chavez, Nintendo of America's Senior Vice President of Sales and Marketing. "Spending time with Nintendo games at our On The Go lounges will give people the opportunity to begin or end their journeys with a smile."

Nick Chavez, Nintendo of America's Senior Vice President of Sales and Marketing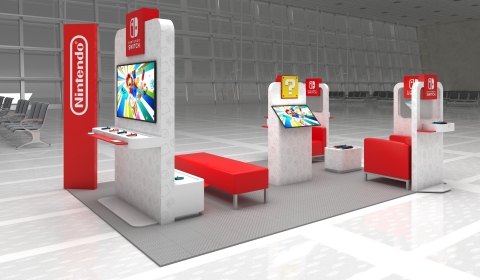 Buying on the go
Since you're probably wondering, yes you can make a purchase at the display. Well, sort of. You can place an order, and if you do you'll get a neat little bonus item.
According to Nintendo, ordering a Switch or Switch Lite from a Lounge will get you a free carrying case. Apparently too, you can order some games and other Nintendo merchandise at the Lounge. So you can have a nice big box of Nintendo goodness waiting for you once you get home.
Oh, and there's a little free bonus too. Once you make it past security and make your way into a booth, you'll get a free Nintendo Switch themed luggage "handle wrap", as well as a $10 off coupon for Target. You can use that on any purchase of Nintendo goods over $75 USD.
If you're traveling from February the 13th through March 26th or 29th (depending), you can visit a Nintendo Lounge in the following airports:
| | | |
| --- | --- | --- |
| Airport | Location | Date |
| Dulles International AirportWashington, D.C. | Concourse B near west entrance/exit, next to Gate B62 | Feb. 17 –March 29 |
| Seattle – Tacoma International AirportSeattle, WA | Concourse C, next to Gate C10 | Feb. 17 –March 29 |
| O'Hare International AirportChicago, IL | Terminal 1, Concourse B, between Gates B12 and B14 | Feb. 17 –March 29 |
| Dallas Love Field AirportDallas, TX | West Terminal, near Gates 14 and 16 | Feb. 13 –March 26 |