A fresh season of multiplayer action has been opened up for Call of Duty fans today, with the release of Modern Warfare's season 2 content.
A Ghost of a chance
There's been a good deal made out of the return of classic CoD characters Ghost in Season 2 of Modern Warfare's content. But while you probably know all about his revival, there's actually a ton Moore to this new set of downloadables.
Season 2 includes the aforementioned as a new Operator, but also the likes of newcomers Talon and Mace. There are also a bunch of new maps, spread out across multiple game modes, and some new hardware to play with. Oh, and speaking of "modes", there are new arrivals there as well.
Check out the trailer below for looks at what's new in action:
In Season Two, Al-Qatala agents have stolen a Soviet nuclear warhead and smuggled it into the city of Verdansk. Combined with previously obtained chemical gas, Al-Qatala is determined to cut off Verdansk from the rest of the world. On the brink of a global catastrophe, Captain Price sends in Ghost to track down the location of the warhead and lead key Operators before it's too late. 


Activision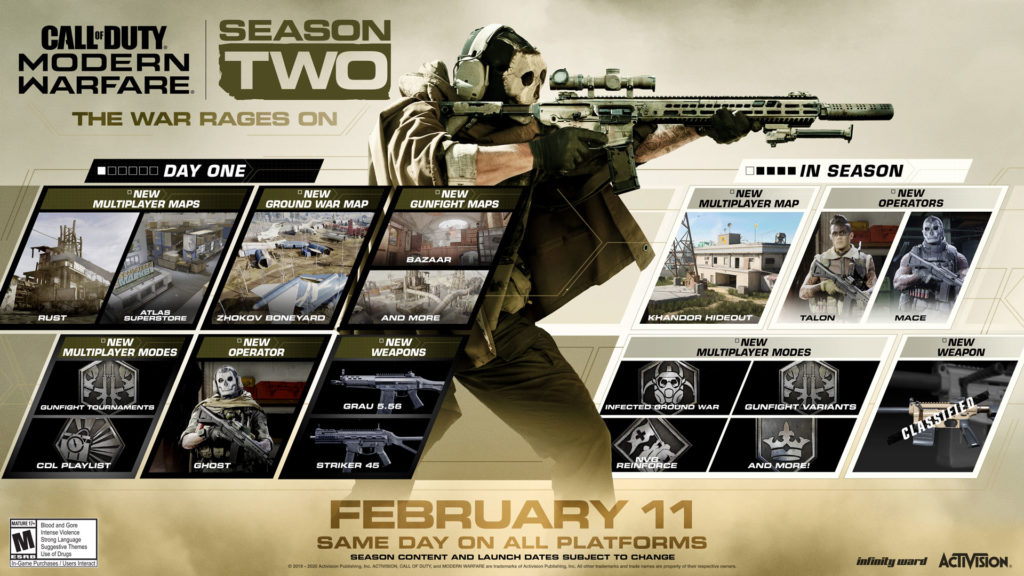 Also, unlike in past years, all of Season 2 is available for all platforms, right off the bat. So you won't have to wait longer to play, whether you're a PS4, Xbox, or PC gamer.
The action kicks off tomorrow, February 11th.