Magneto has arrived. Marvel's mutant master of magnetism gets a One:12 Collective adaptation based on the character's most iconic look.
Magnetic
Magneto will always -always- be a villain to me. Sure, he's been a white and magenta clad hero on occasion, and lately he seems to be permanently stuck in that mode, but Erik Lensherre (yes, that's his name) is one of the best villains in any comic book. And for me, there's no look more iconic for him than his classic red and purple.
Fortunately, that's what Mezco has produced for his inclusion in their One:12 Collective. They actually make a white-garbed version as well, but you can probably guess my thoughts on that one.
Fortunately, their classic 'villain' version of Magneto is suitably impressive.
Build Quality
As with most all of the One:12 Collective figures, Magneto is an impressively sculpted collector piece. The figure includes both helmeted and non-helmeted heads as well, for dual looks. Both look terrific, as does the fresh take on the costume.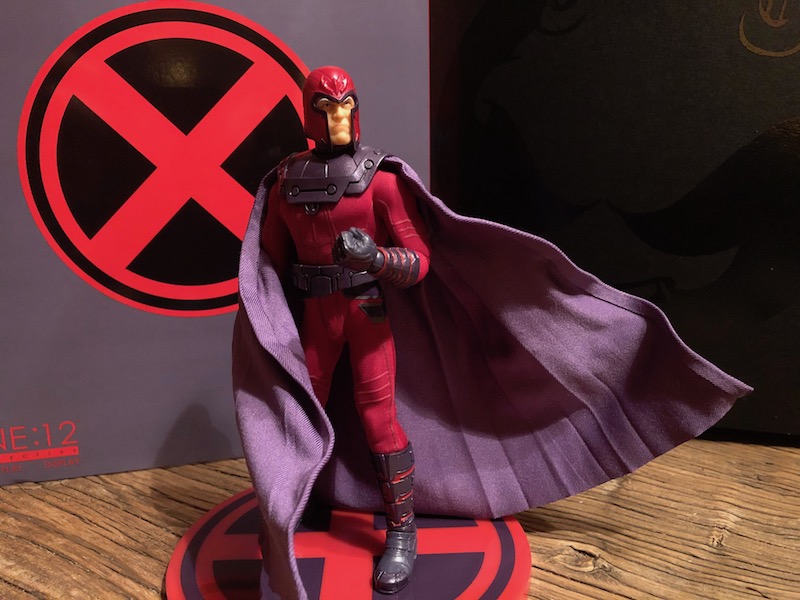 While this is pretty much the character's most famed look from the X-Men comics, Mezco did take their usual liberties with it. That more or less shakes out to mean added detail. In true Mezco style, they did a fantastic job with it.
Magneto also has a full rage of motion and takes complete advantage of the One:12 articulation. There's no hindrance here from what I can see. Magneto has no unmovable costuming or light-up features for that matter, so his posability is unhindered.
Aesthetic
It is extremely tough to argue with this one. Magneto looks flat-out terrific. Mezco did a great job and built out what's otherwise been a relatively plain look, historically. The little additions make this figure.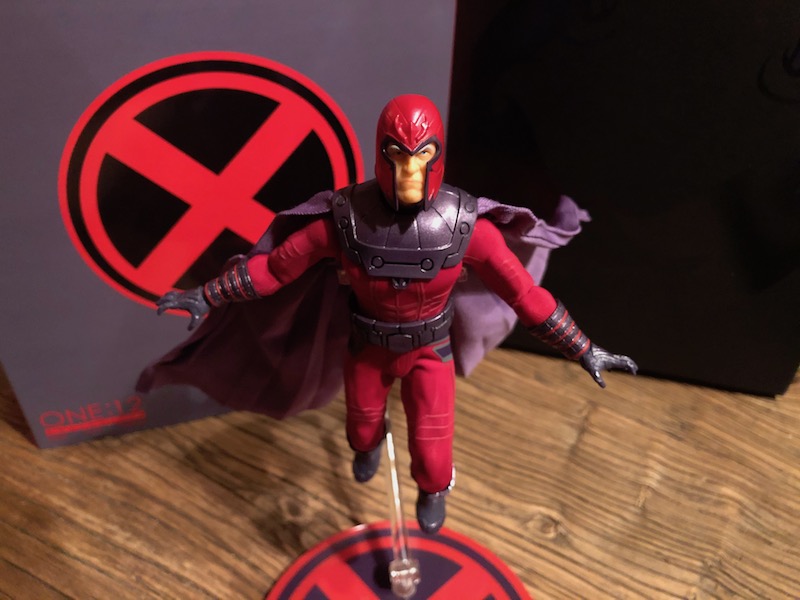 There are red-on-red lines running across Magnus' midsection and legs, cut-out sections on his boots, and an added belt with some hip detailing. All great additions. As for the cape and helm though, those are 100% classic Magneto.
The new mixed with the original makes for one impressive figure. It might be my favorite look yet for him. And that's really saying something.
Extras
Magneto doesn't pack in a ton of accessories. I usually have a problem with that when it comes to the One:12, but my opinion is muted just a bit here. That's just because the extras are so neat.
Yes, there are multiple hands, the aforementioned head sculpts, and the requisite flight stand and base, but you also get some cool effects pieces. Magneto includes what I can only describe as some kind of mini-magnetic whirlwind.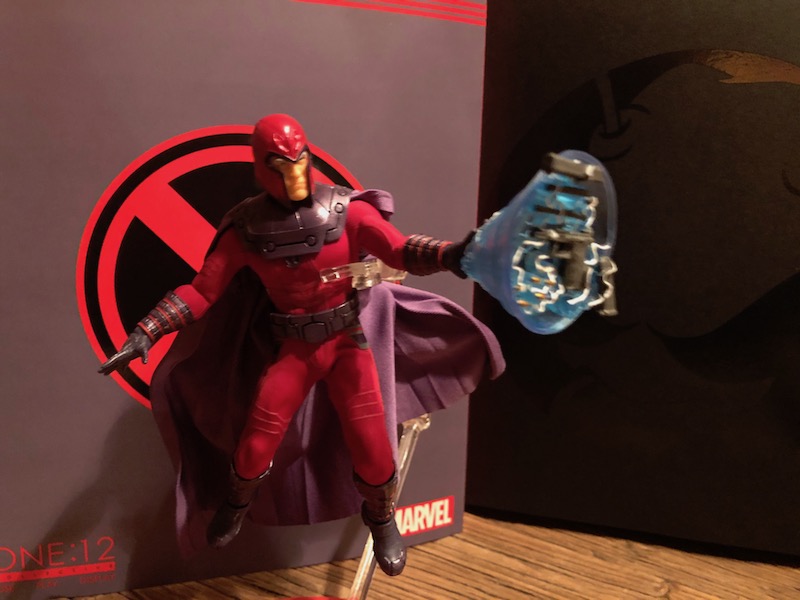 It's not just that though, as the center of the effect contains a gun that's being disassembled. Pretty slick. Then he's also got a pair of magnetic discs. Yes, actually magnetic. As you can see, they're not the most impressive of magnets, but they can hold lighter weight stuff (like this metal wire) for novel displays.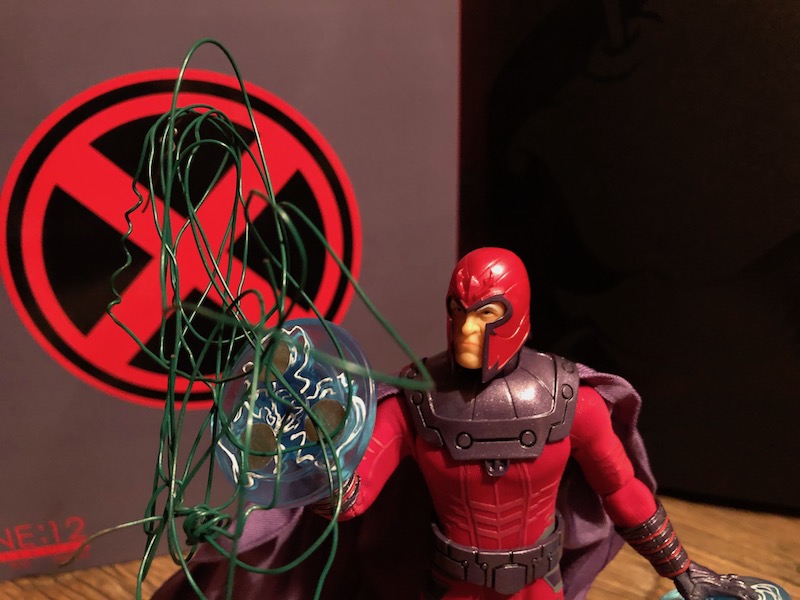 I have to mention the cape too, since it's really great. You get a nice, full cape with this figure, and speaking of wire, it has some. Magneto being Magneto, that means you can re-create some awesome levitating looks when you combine it with the included flight stand.
Unfortunately it is a bit of a bummer that the helmet has a non-removable head sculpted in. I would have greatly preferred a removable helmet and two facial expressions that you could swap. It also would have been easier to display him holding the helm that way. As it is, you have to have it backwards or he's holding his own severed noggin.
Overall
There is a lot to like about Mezco's particular vision of Magneto. And it's tough overall to find much to knock, though that's a common thought that I have regarding the One:12 Collective.
I definitely wish there was a removable helmet instead of the varying sculpts, and more accessories would have been nice. But again, what's here is cool, and the figure is stunning all by itself. So really, what's there to harp on?
If you're a Magneto or X-Men fan, I'm pretty confident you'll dig this.
Magneto
Release date: December 2019
Manufacturer: Mezco
Line: One:12 Collective
MSRP: $80.00 USD

Build Quality - 95%
If you're an X-Men fan who's also been collecting Mezco's One:12 Collective, then this one's almost a no-brainer. Magneto looks awesome and is a great addition to the line. No, the accessories won't bowl you over and there are some things I'd have done differently, but I'm thrilled with this figure overall.