It's slim pickings this week for Nintendo gamers, as there's nothing of note landing on Switch. Headliners include The Touryst and Black Future '88.
Yeah, there ain't much
Well. If you're looking for big games, it's time to look elsewhere. As good as the Nintendo Downloads have been lately, this week is the exact opposite of "good". There are headline games, no doubt, but even they aren't any kind of triple-A titles or indie darlings.
As such, I'm not really going to say much about them. Scroll on down and see what's what for yourself.
Nintendo eShop on Nintendo Switch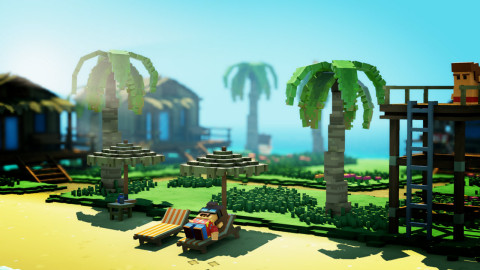 The Touryst – In this surreal adventure game, your idyllic vacation is about to get very strange. Choices abound when arriving at the Monument Islands. Want to go swimming? Or take a dive into the deep sea? Or would you rather visit the amusement arcade, do some shopping and dance at a beach party? Or will you talk with the enigmatic old tourist and listen to what he has to say about these ancient mysterious monuments?
Black Future '88 – Black Future '88 is a synth-punk roguelike 2D action shooter. Vertically climb an always-evolving, procedural tower to reach the top and destroy its owner before your heart explodes. Shoot, slash, dash and upgrade yourself to survive the endless waves of deadly traps, hostile AI and colossal Wardens standing in your way in a stylish alternative version of 1988.
Nintendo Mobile
'Tis the Season to Put Your Keys in the Ignition – A beautiful blanket of snow has descended in the Mario Kart Tour game* during the special Winter Tour event, which runs until Dec. 3. Mario looks quite jolly in his Santa suit while staying warm with a Fire Flower. Meanwhile, Pink Gold Peach spreads some wintertime joy as she speeds past sparkling decorations. Additionally, with a new update, players can now drive with a dedicated "Drift" button now added in Automatic Drift mode, and a "Steer" button added in Manual Drift mode, there's never been a better time to join the race!
Happy Second Anniversary, Animal Crossing Campers – Mail call! Your special invitation to Pocket Camp Club has arrived, a new optional paid subscription service exclusive to the Animal Crossing: Pocket Camp game*. Have you ever wanted your own personal assistant to help around the campsite? With the Happy Helper Plan, priced at $2.99 a month, you'll be able to set your favorite animal friend as your camp caretaker to help with animal requests and events like Scavenger Hunts, Fishing Tourneys and Garden Events. Or, with the Cookie & Depot Plan, priced at $7.99 a month, you'll receive access to the members-only Cookie Shop where you can choose five fortune cookies each month. Plus, with the Cookie & Depot Plan, you'll also be able to indulge all your furniture and clothing collecting instincts with a large upgrade to your storage capacity. For even more details and fun features available to subscribers of these new plans, check out the Happy Helper Plan video and the Cookie & Depot Plan video.
Nintendo eShop sales:
Nintendo eShop on Nintendo Switch, Nintendo 3DS and Wii U
Also new this week in Nintendo eShop on Nintendo Switch:
* Free-to-start; optional in-game purchases available. Persistent Internet, compatible smartphone and Nintendo Account required. Data charges may apply.