Not really a case, Nintendo's newest protective solution for the new Switch Lite should keep your screen scratch-free while you game on the go.
Protect this Switch
Storage and protective cases might not be the sexiest things to talk about, but they're pretty important when you're referring to a console like the Switch Lite. After all, unlike the base Switch console, the Lite was made with portability and handheld gaming specifically in mind.
And unlike the DS line of systems, there's no clamshell to protect it. So you kind of need something if you're going to be tossing it into a backpack or a briefcase. Well, enter the Nintendo Switch Lite Flip Cover & Screen Protector.
This little handy-dandy kit includes both a screen protecting application, and a flip open cover.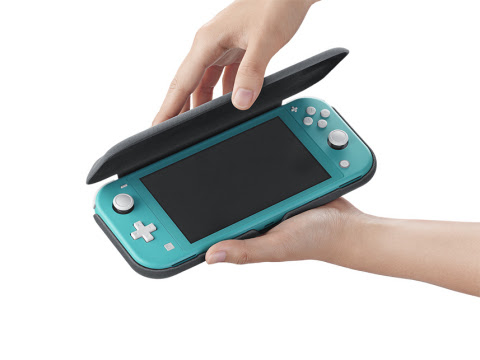 The Nintendo Switch Lite Flip Cover & Screen Protector accessories are a great way to help keep your newNintendo Switch Lite screen in great condition while gaming on the go. Whether you're getting your hands dirty constructing courses in Super Mario Maker 2 or slithering through grimy grates with Gooigi in Luigi's Mansion 3, you can rest assured your screen will stay clean.

Nintendo
Adding on
The "protective sheet" that's included seems pretty self-explanitory. Though Nintendo doesn't elaborate, it's most likely a clear sticker that you affix to the screen itself, adding a layer of scratch protection. The case is a little more interesting though.
It looks like you might snap the Switch Lite into it, sort of enveloping the entire console. It's hard to tell as Nintendo didn't include 'open' and 'closed' pics. What is apparent though, is that the actual console-cover fits open and closed, so you can protect the entire face of the console.
At a cost of $39.99 USD, the case will be available only from Nintendo at first. Starting on December 8th, you'll be able to order one here. If you don't like that option though, you can wait and grab one at your favorite retailer. Nintendo also says early 2020 will see a wider distribution of the add-on.