The man in black is back. One of the greatest Joes of all time, Snake Eyes is back and Major X' Rob Liefeld is set to bring him (back to) life.
"Two words: 'BUCKET LIST,'" says Liefeld, "One more word: 'ICON.' Snake Eyes is Wolverine, Deadpool, and Spider Man rolled into one amazing character for an entire generation of fans that thrilled to his adventures in comics and cartoons and hung on his every toy release! My parents drove me all over the county to get me G.I. JOE action figures as a kid. These were my first and most favorite toys. Working with Hasbro and all my friends at IDW has been a blast so far. I can't wait to get this work out into the public! If you enjoyed my recent Marvel work," Liefeld continues," this will match or exceed it!"

Rob Liefeld
Snake Eyes returns(?)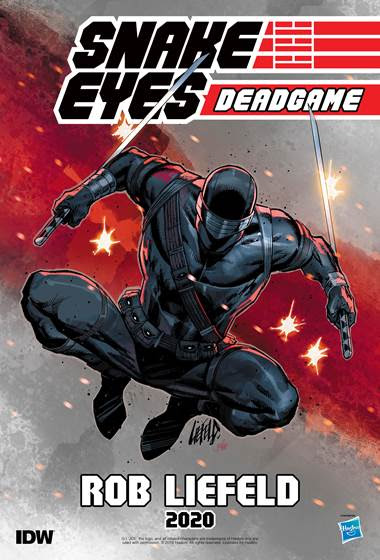 Well, this is honestly pretty exciting. If you're not following the book, long time Joe and martial arts master Snake Eyes was killed off in the pages of Larry Hama's G.I. Joe: A Real American Hero. Snake was then replaced by a pair of new characters, each one donning his garb and specializing in ninja fighting styles. But, is he actually gone for good? Maybe not.
IDW has just released the teaser poster that you see above, for Snake Eyes: Deadgame. That's a loaded title, since death has played a big part in Snake's story as of late. Might his untimely death have all been a ruse?
Hard to say at this point since IDW has really not elaborated on anything. We do know though, that Rob Liefeld will be bringing this new book to life, which is big news in and of itself.
Liefeld might've fallen out of spotlight in recent years, but he's back with a vengeance. He's fresh off of Marvel Comics' Major X, which has been a huge hit, bringing back the bombastic, action-packed storytelling of the 90s.
That just so happens to be Liefeld's specialty, and you can probably expect plenty of it for Snake Eyes. As to when you'll get issue #1 in your hands, well that's also a mystery. IDW says the book is coming some time in 2020.