This past week's BookCon in NYC delivered a new Black Label title from DC Comics. Harley meets Joker in this new non-canon story.
Girl meets psychopath
By now, everyone who's a DC Comics fan of almost any ilk knows the story of Harley Quinn. Born Harlene Quinzel, the brilliant Arkham Asylum doctor became enraptured with Joker, who was under her care.
She was slowly twisted and turned to madness, throwing in with the Clown Prince of Crime. Harley became a criminal partner to him, before striking out on her own, and eventually being forced into joining the Suicide Squad by the US government.
But that doesn't sound like the case at all in the new DC Black Label book Joker/Harley: Criminal Sanity from writer Kami Garcia and artists Mike Mayhew and Mico Sayan.
In Gotham City, where heinous acts of violence are a daily occurrence, the GCPD relies on Harley Quinn, a young forensic psychiatrist and profiler, to consult on their toughest cases. But Harley is haunted by one case in particular—when she found herself at the center of a horrifying crime scene the night she discovered the body of her roommate, left with the signature of a notorious serial killer—the Joker.

When a series of gruesome displays of murder appear throughout the city, the past and present collide as Harley's obsession with finding the depraved psychopath responsible leads her down a dangerous path. She must decide how far she is willing to go, and what lines she is willing to cross to solve these cases once and for all.

DC Comics press release

Notice there's no mention of Batman
This being a Black Label comic, it's completely out of DC Universe canon, and more or less an "Elseworlds" title. That means it's its own thing, and not tied to any particular history.
So could that mean that Joker/Harley: Criminal Sanity finds itself in a version of Gotham where there is no Dark Knight? Sounds like it might. Also, the character of Joker himself is radically different than any that's come before.
Why? Because he's sane.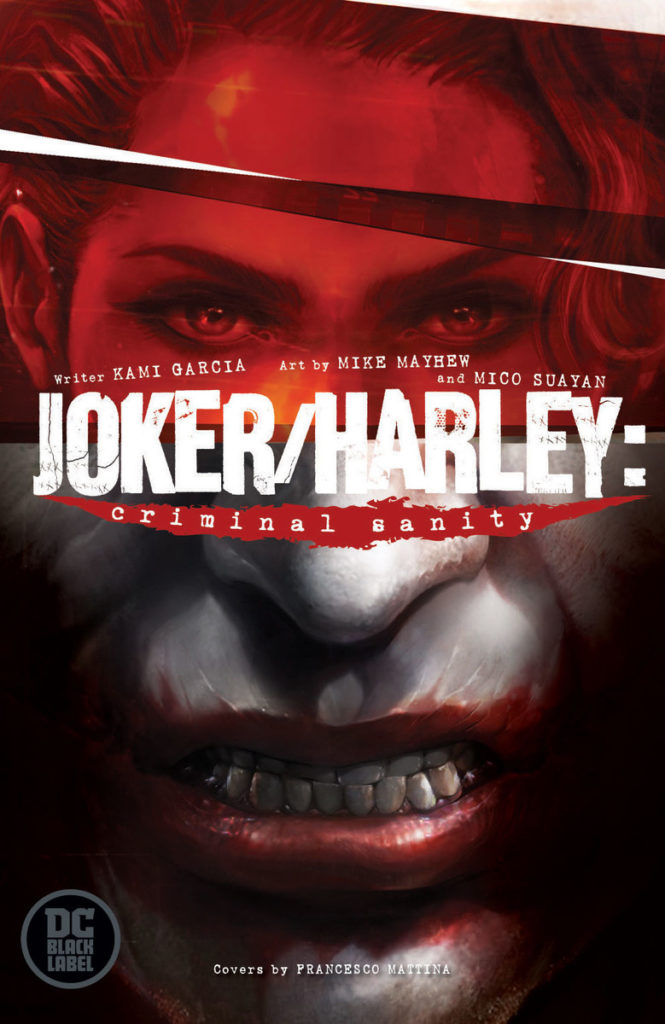 "There is no character more terrifying than the Joker. He is one of the most complex psychopathic killers ever created," said Garcia. "I wanted to approach the project as if  the Joker was a real person—an intelligent and sane psychopath, who kills because he wants to, not because he suffers from delusions. To me, a version of the Joker, who is sane like John Wayne Gacy or Ted Bundy, is more frightening. In the series, Harley is the only character with the skill set and intelligence to hunt the Joker, but the investigation will force her to confront her own inner demons."

Kami Garcia
Strike you as interesting? Remember, this is a Black Label book. There's no impact on the DCU proper, retconning history. So if you're a big fan of either, don't worry about something "ruining" anything you already like.
As it stands it could just be a pretty cool alternate universe take on one of the weirdest relationships in comics. Joker/Harley: Criminal Sanity lands on stands this October the 2nd.