IDW's take on the classic Dungeons & Dragons franchise of RPGs is getting hot. And I mean that as in it's going to the fiery shores of the inferno.
Burning down the RPG
Dungeons & Dragons itself is expanding in the fall with Baldur's Gate: Descent into Avernus. The new expansion is more than just in the tabletop game too. IDW publishing, who currently has the D&D license, is getting in on the action.
The company's new book, Dungeons & Dragons: Infernal Tides, will see to that. Writer Jim Zub and artist Max Dunbar will be heading up the new mini-series. According to Zub, it will be knee-deep in secrets, demons, and soul stealing.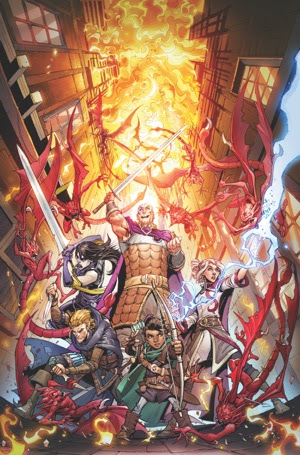 "Dungeons & Dragons: Infernal Tides is a wild ride through some of my favorite parts of D&D lore," says Jim Zub. "Getting the chance to help develop the story and setting for a brand new D&D sourcebook directly with the D&D team, having Max Dunbar contribute key concept art to that adventure, and then getting both of us back at IDW to create a brand new comic story that propels Minsc and the rest of the Baldur's Gate heroes into the same kind of devilish danger is an absolute dream come true. This comic is going to be pure D&D-fueled adrenalin. I can't wait for readers to see how it all rolls out.

"I'm so connected to these characters," Jim continues, "that I'm shaving my head and donning the purple makeup and leather armor to play as Minsc at D&D Live 2019: The Descent. Watch me roll some dice with Chris Perkins as DM and Matthew Mercer playing Boo in the final part of The Descent at dungeonsanddragons.com on May 18 at 8pm PT."

Jim Zub

Infernal Tides is set to debut at retail this November, which is a few months after that tabletop expansion hits in September.