Mezco's latest Dark Knight emerges with Tactical Suit Batman. The One:12 does little wrong overall, though this one might be an acquired taste.
Get Tactical
The DC movie universe seems to finally be catching on with fans. Wonder Woman and Aquaman were legit hits, Shazam is getting great reviews, and there's a good deal of excitement around the next Suicide Squad film. But while now might be a good time to be a fan, in the recent past there was Justice League.
A strange mixture of directors Zach Snyder and Joss Whedon, Justice League was a… I was going to say "stumble", but it was more of a crippling fall. A disjointed story, bizarre choices like never showing Darkseid, and that brutal Superman CGI all led to something that really no one enjoyed. But it wasn't all bad. Even fervent detractors would have to admit there were some cool things to come out of it.
Chiefly among those were the Bat-vehicles. The Nightcrawler and Flying Fox were slick, and the tactical suit was a nice alternate look for the Dark Knight. It straddled the line between the staple "movie" suit and a more armored look.
And as far as action figure adaptations of it go, Mezco's is spot-on. Though whether or not that makes it worth your dollar is entirely up to you.
Build Quality
There isn't much to say here that'd be different from all of the other One:12 Collective basically figure reviews we've run. If you're familiar with the line's standard entries, then you already know the score.
Batman is cast in the 6″ scale, with excellent articulation and holds a pose well. The costume is just as well made as you'd expect too. Though I have to admit I'm starting to want wire in all One:12 figures' capes. We don't get that here, and it would have made for some cool posing.
One thing I'll point out on the plus side though, is that the 'armor over traditional Bat-suit' vision is pulled off really well. It's easy to tell that there's a (seemingly) regular old Batman costume under the heft. Not that you can remove that added bulk, but it's a great effect.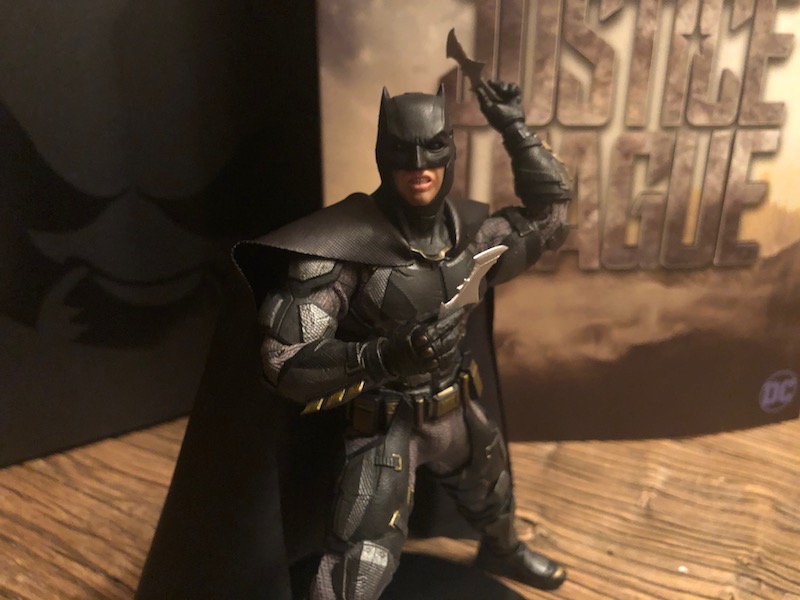 Aesthetic
I kind of just mentioned this, but the armor is terrific. It's not as in-your-face of a look as the BvS armor, but it's cool and impressive in its own right. All parts of the suit are nicely detailed, from weathering effects and scratches to the flip-down goggles. Much like that previously mentioned armor, you get the feeling that the Batman has donned this getup before.
On those goggles by the way, I'm still a little fuzzy on why the suit needs those at all. We didn't ever see them doing anything interesting in the movie, though that's a question for a different review. Mezco gets 'em right (even if they're a mystery in the design).
This figure is actually packed with little details too. The utility belt is great looking, and contains a peg for the grapple gun on the back. It's one of those things that probably could have been skipped in the design, but that Mezco did anyway. They're good like that.
Extras
As with the other Batman figures in the One:12 Collective, the Tactical Suit Batman comes with a fantastic array of accessories. That's exactly what I look for in a figure from this line, and the Tac Suit does not disappoint.
In all, you get 2 pairs of those mysterious goggles (one for flipped up, one for flipped down), batarangs, grenades, the iconic grapple gun (complete with multiple attachments), and a Parademon rifle. For your displaying pleasure, you also get the ubiquitous stand, complete with flight post and display wires, so you can pose the cape.
Please note that this is not the same as a wired cape. These are wires that you can attach to stretch the cape out in flight positions. They're cool, but they're not what I was talking about earlier.
Batman also includes 2 portraits, and a great selection of extra hands. Those include 2 that have batarangs in them already. That seems redundant, but I'm not gonna complain.
Overall
Tactical Suit Batman is another great-looking Batman figure in a line that already has a few of them. Yes, this one sports a different look than any other, but is it enough of a difference to be exciting?
For me it kind of isn't. I like this figure, don't get me wrong, but with a standard movie Batman and 2 great comic book inspired ones already in my collection, Tac Suit Bats comes off a little dull.
Maybe that's got something to do with me being so disappointed in the Justice League movie. Maybe if you actually liked it, or didn't care all that much, you'd dig this figure more. It's possible I guess.
But I don't want to trash this figure just because I didn't like a movie. That'd be awful, especially since the toy itself is very nice indeed. It's just that whether or not you actually want one might be mostly dependent on your feelings about the film.
Tactical Suit Batman
Release Date: January 2019
Maker: Mezco Toyz
Line: One:12 Collective
MSRP: $80 USD
Build Quality - 93%
Aesthetic - 84%
Extras - 88%
Tactical Suit Batman is a little on the dull side, as One:12 figures go. Don't get me wrong, there's definitely nothing wrong with it, as it's got excellent detail, articulation, and a nice assortment of accessories. But even so, it doesn't wow like the other BatFleck figures did. That makes it hard to score here since there's nothing deficient really, it's just not exactly to my taste.