It's going to be a big year for Marvel Comics events. The publisher has a total of four major ones planned for the year, including a mystery one.
Big time
How many event books/series' are too many? Years back, the major publishers had one big one, with possibly a few more focusing on a single character or group.
For example, in 1992 Marvel Comics published Infinity War. That was the event for that year. Period. There was a big Spider-Man event that year too though, and an Avengers one as well, but they both felt like smaller happenings, probably because they were.
Lately, we've been getting more than that though, and 2018 was packed to the gills. This year looks to be no different.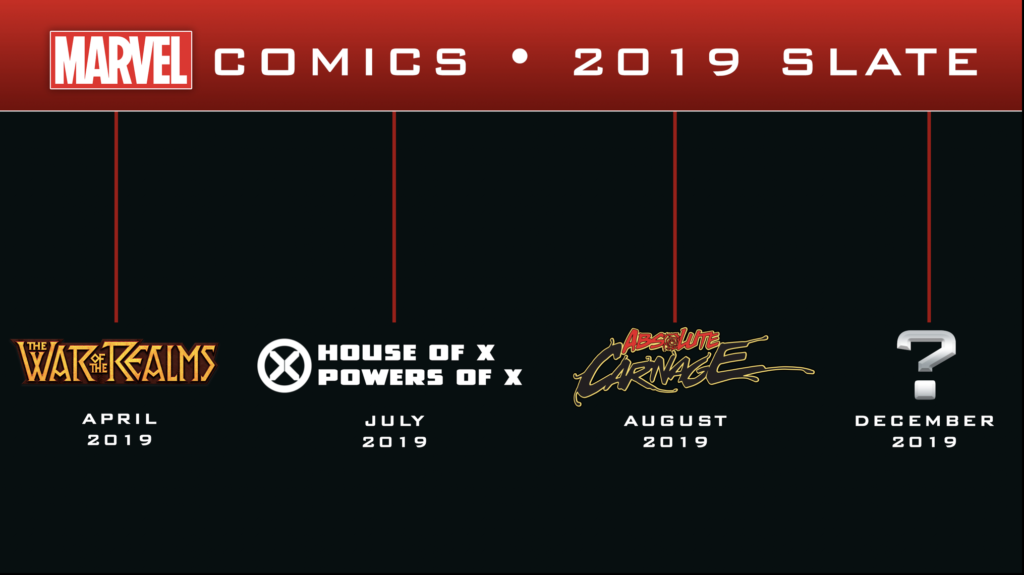 null
This April, Marvel's WAR OF THE REALMS commences, featuring Marvel's greatest heroes such as Thor, Captain America, Iron Man, Spider-Man, Black Panther, and Captain Marvel! The dark sorcerer Malekith wages a war that has spread from one otherworldly realm to the next, razing each one to the ground as his armies move from conquest to conquest. Now there's only one realm left standing: ours.
This July, Marvel's HOUSE OF X and POWERS OF X will mark the next major milestone in X-Men history. Since their introduction by Stan Lee and Jack Kirby over 50 years ago, fans around the world have followed the extraordinary stories of the X-Men through seminal moments like Giant-Size X-Men, 1991's X-Men #1, Age of Apocalypse, and New X-Men. Each of these moments introduced a new era for mutantkind – and starting this summer, the world will experience the next seminal moment in the history of the X-Men.
This August, the Marvel Universe will need to survive ABSOLUTE CARNAGE – and no one is safe. Beginning in Free Comic Book Day Spider-Man/Venom #1 (out May 5), Cletus Kasady is back, and he's deadlier than ever. On a hunt for every Super Hero in the Marvel Universe who has worn a symbiote, Carnage has his eyes on his first victims…starting with some of our favorite Marvel heroes. Everyone is a target!
With December's event presumably being a big one, that's a packed slate. And lest you think that the X and Spidey events are exclusive to those books, thus making them "smaller" in scope, think again.
While we don't know much about Johnathan Hickman's X-books just yet, we do know that Absolute Carnage is going to be huge. The Spider-Man villain Carnage will be hunting down everyone who's worn a symbiote. As writer Donny Cates said, that's pretty much everyone.
So the bottom line is that 2019 is going to be a monster of a year for fans if they want to keep up on everything happening in the Marvel U.