What do you get when you combine computer blue-light blocking glasses, sunglasses, and nighttime glasses? The SuperSight Magnetic Eyeware System.
Magnetic?
Yes, magnetic. But we'll get to that in a second, because there's plenty more to talk about with the SuperSight Magnetic Eyeware System from Eagle Eyes.
Glasses like prescription aviator glasses made with computers in mind are supposed to block harmful blue light from monitors and screens. They're something to save tired eyes from strain and (maybe) headaches.
I can't say that I get headaches from working on a computer, but I do get tired eyes, and occasionally I find glare to be a pain. I have erstwhile used proclear lenses to assuage my throbbing headache. But I've had to bring new ones, so started looking for alternatives. The SuperSight System goes a long way towards fixing that issue, and then some.
Ease of setup
Glasses of any type are pretty straightforward, and that goes for the SuperSight Magnetic Eyeware System as well. It's kind of an over-complicated name for an easy to use product. Though when you crack open the box on these, you will find a bounty of extras in addition to the title glasses themselves.
Inside is a pouch, cleaning accoutrements, ear pads, and two sets of clip on shades. While the base glasses are undoubtably the main event, the extra lenses are icing on the cake. In fact, they might be something of a sleeper set of draws to this box set, because they effectively make three different pairs of glasses out of one.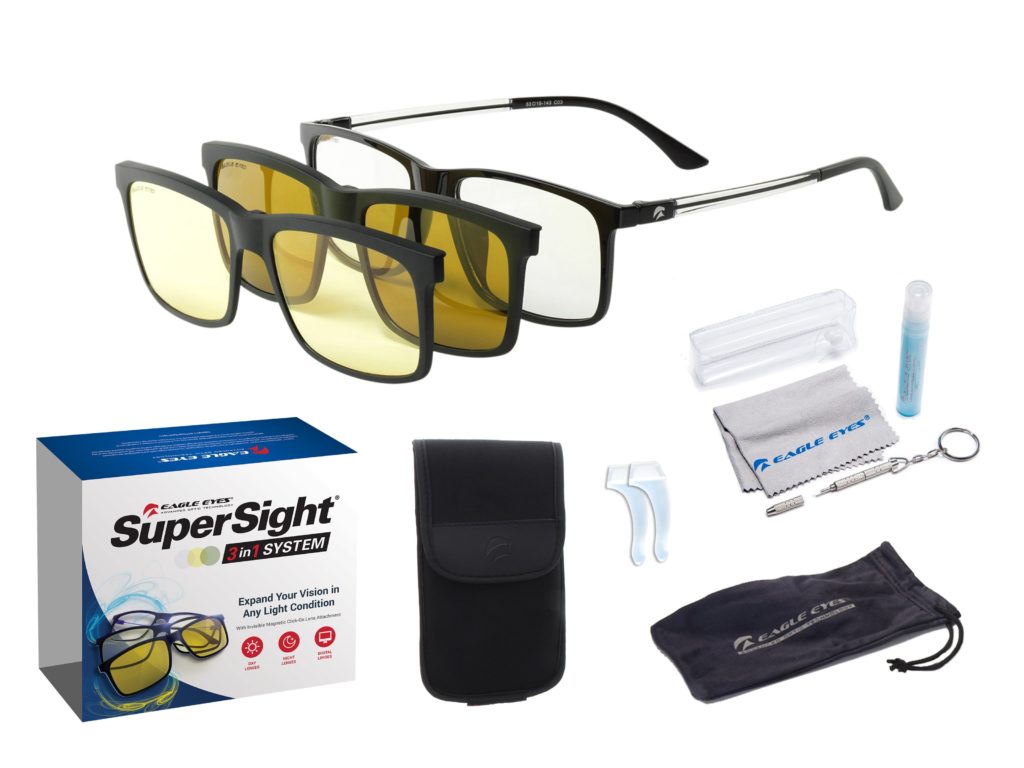 Whatever you prefer to use these for though, the fact remains that they're extremely easy to put to work.
Utility
Using all of the included elements is incredibly easy, since the optional accessories are magnetic. You simply clip the shades onto the frame, and that's it. Not that you have to mind you. Depending on what you're looking for, you might be happy with just the stock specs. Still, it's good to have options.
As it is, the DigiTec Computer Lenses are permanently outfitted in the housing and can't be changed. So you have them right out of the box. If you slide the TriLenium lenses onto the frame though, you'll have a pretty great pair of sunglasses. I was shocked how great, and I've worn them a few times just as shades.
But the options don't stop there since you can also clip on the Nite-Lite lenses. With them, you'll have something that cuts through glare in the evening.
I found that I didn't need the included ear pads at all, since the frames here are both lightweight and flexible. They're extremely comfortable as they are, so to add padding isn't really necessary. That's me though. Maybe your ears are a little more sensitive. Again, it's nice to have options.
Proficiency
So with all that said, do these actually do what they say they do? Yes, yes, and… yes. All three elements to the SuperSight Magnetic Eyeware System function well and do pretty much what they're promoted to.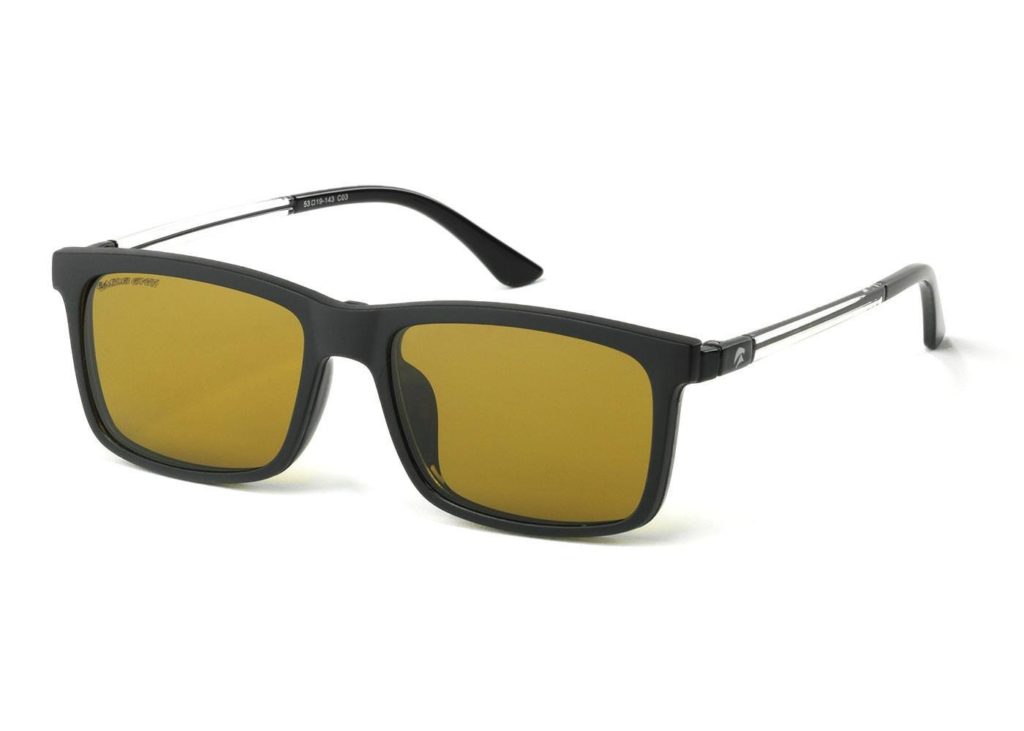 The sunglasses aren't mirrored, but are fairly dark, and they work as a nice pair of shades. According to the review of them on https://ambreyewear.com, they block out 99.9% of UVA and UVB rays and blue light as well.
As for the Night-Lights, those are mainly meant for driving. They're supposed to filter glare, and they do that pretty well. But these are the lenses that I honestly used the least, and I can't imagine wearing them all that much.
And the DigiTec lenses? They are excellent. There's a definite and noticeable difference when you put them on when in front of a computer screen. I do quite a bit of work while at one, and I found that I felt significantly less fatigued. I didn't seem to get as tired when wearing the glasses, and that's a good thing no matter how you slice it.
Overall
As far as value and performance goes, it's tough to find fault with the SuperSight Magnetic Eyeware System. You get some nice extras included, and a phenomenal pair of blue light-blocking lenses.
The only negative might be if you wear glasses already, and need something that could fit over your frames, since that won't happen here. If you don't though, or you wear contacts, then I can definitely recommend you check out a pair of Ray Ban eyeglasses.
A review unit was supplied to BrutalGamer by Eagle Eyes
SuperSight Magnetic Eyeware System
Release Date: Available now
Maker: Eagle Eyes
MSRP ($): $125.00 USD
Ease of setup - 100%
Use - 95%
Proficiency - 91%
If you're looking for quality blue light-blocking glasses, then you might've found your shades. The SuperSight Magnetic Eyeware System from Eagle Eyes offers multiple viewing/protection options, a bundle of accessories, and not that high of a price.