Super X-Fi is a new technology meant to better envelope users in sound from whatever media their consuming. Now it's in its first headset.
Getting Creative
Everyone should know the name Creative. Active in audio and PC arenas for decades, Creative is an absolutely huge name. I think pretty much anyone who's played games on a PC has had a Soundblaster something at some point. I've purchased from them more than a few times, and have to say I've never been disappointed. Now they're incorporating some brand new technology with Super X-Fi.
Super X-Fi is a relatively new thing from Creative, and it sounds pretty impressive on paper.
"After the SXFI AMP, it was a natural next step to develop headphones with built-in Super X-Fi technology. With the SXFI AIR series, users can now enjoy the magic of headphone holography, complemented by the best of our headphone engineering. The SXFI AIR is meant to pave the way for the headphone industry to adopt Super X-Fi into all future headphones," said Sim Wong Hoo, CEO of Creative Technology.

Creative press release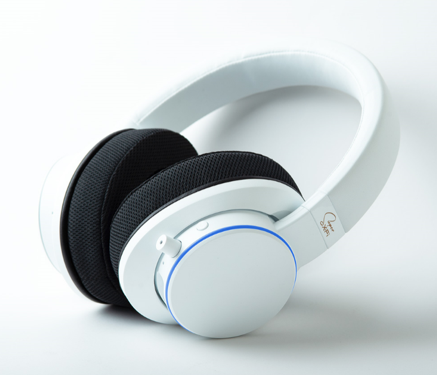 Holographic?
Yes, that's what Creative is calling Super X-Fi, holographic audio. Basically, it's meant to give users the feel of 'being there' better than anything that's come before, by simulating the effects of a multi-speaker system, but in a headset.
Movies, music and gaming experiences are completely redefined with the SXFI AIR series. Simply by pressing a button, audio from movies can now be relished in all its full cinematic glory through these headphones, eliminating the need for a multi-speaker setup. Likewise, listening to musical tracks on the SXFI AIR series will ignite the feeling of attending a live concert performance. Offering seamless compatibility with PS4, Nintendo Switch, Mac or PC, the SXFI AIR series redefines the gaming experience through its expanded soundstage, bringing users into the game's cinematic environment, presenting them with a real-life holographic audio experience, as good as the real thing.




Creative press release
The SXFI Air
The first headset to take advantage of all of this newness is the SXFI Air. The set that you see pictured here in this story, the Air is compatible with iOS and Android devices, along with those "ranging from mobile devices to PC and Mac to Nintendo Switch and PS4." Interesting to note there that the Xbox One isn't listed there, though I can't imagine that they won't work with Microsoft's system. After all, they can connect both via Bluetooth and USB.
Speaking of, that USB connection is where the headset is reported to really shine. Using the Air on a PC or Mac gives you access to low-latency 7.1 audio, so it'll give you that full surround sound experience.
Also very cool is the physical makeup of the Air, which includes a customizable light ring (via app), and a suite of touch controls. Oh, and did I mention that the headset also works as a standalone music player? Yep, it'll accept an SD card. Neat stuff.
While the Air isn't exactly a budget item, a slightly lower-end version is also coming up called the Air C. The C eschews Bluetooth, touch-controls, and SD card support, and is aimed much more at console gamers.
You can check out the Air C right here, and the standard Air here.