There are wedding bells ringing for Ben Grimm and his longtime gal Alicia in Fantastic Four #5. But of course, thing probably aren't going to go exactly as planned.
Fantastic nuptials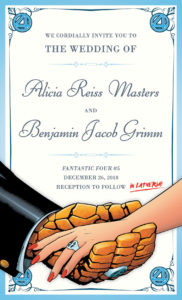 While this is issue #5 of the new FF book, it's also #650 of the overall run for the comic. And that's good, because this is set to be a pretty big issue. The Thing is gettin' hitched, and so of course, this issue will have everything and the kitchen sink included. And that means a big time creative team behind it as well.
Dan Slott, Esad Ribic, Aaron Kuder, Adam Hughes, and Michael Allred will all be involved.
"There are a handful of comic titles that demand respect due to their history. Titles that have influenced generations of fans and creators alike…Fantastic Four is definitely one of the biggest," said Kuder. "It is truly an honor on that basis alone. Throw in the fact that I'm working with legendary creators like Dan, Mike, Adam, and Marte, and that just sets my inner fanboy a-spinning. I'll be giving this ALL I've got."
Oh, and if you're thinking that this is a wedding that won't actually happen, think again. Marvel assures fans (and takes a swipe at DC's Batman/Catwoman wedding in the process) that the issue will end with an "I do".
Fantastic Four #5 (Legacy #650) hits the stands on December 26th.