Special edition games and re-releases will be a centerpoint for Nintendo this Holiday. But there's more on the horizon too, like a controller and new 2DS bundle.
It's a special kind of holiday
"We want to give people a variety of options and price points when shopping for themselves or the Nintendo fans in their lives," said Nintendo of America President and COO Reggie Fils-Aime. "Whether looking for a portable system for a first-time gamer or a cool controller to play Super Smash Bros. Ultimate, Nintendo has great gifts for all ages this holiday season."
Nintendo made a few announcements this week, as to their Holiday 2018 plans. Some of this is pretty clearly made for gamers who need to play a bit of catchup with the Switch's lineup. Some though, is probably going to appeal to almost everyone who owns the console.
Of course, I'm talking about the Smash stuff.
Super Smash Bros Ultimate lands on Switch this Holiday Season, and the special set that Nintendo will be launching alongside it is definitely something that fans will want to have a look at. Yes, there's already a GameCube Smash controller on the way, but now there's another.
A bundle featuring a new Nintendo Switch Pro Controller adorned with the Super Smash Bros. Ultimate logo, a steel case and the Super Smash Bros. Ultimategame launches on

Dec. 7

at a suggested retail price of $139.99. The Super Smash Bros. Ultimate Nintendo Switch Pro Controller will also launch as a standalone product on the same day (

Dec. 7

) at a suggested retail price of $74.99.
If you're just going to be getting into the Switch, there are those special edition re-releases.
The new packs include some of the best selling games from the Switch's current library. Officially called "starter packs" by Nintendo, these include a game and a strategy guide. So maybe you can grab some of these and then rip through 'em.
And then there's the 2DS XL
Yes, the 2DS is rapidly heading towards insignificance, if it's not there already. But that doesn't mean that it's still not worth your time, especially if you've somehow missed one of the best handheld consoles of all time.
This bundle includes both a cool new colorway for the 2DS XL console, and a copy of Mario Kart 7. That's still a terrific MK title by the way, and one that I feel people kind of forget about.
On

Sept. 28

, a New Nintendo 2DS XL system in a new purple + silver color with the high-octane Mario Kart 7 game pre-installed will be available at a suggested retail price of only $149.99. Both of the currently available New Nintendo 2DS XL color schemes (black + turquoise and white + orange) will also be changed to bundles with the Mario Kart 7 game pre-installed on the same day.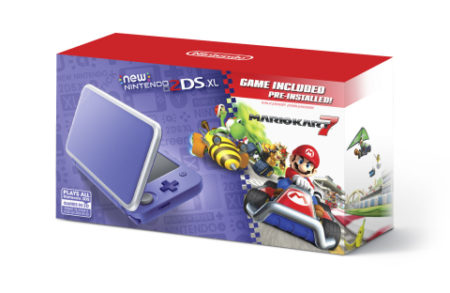 This isn't all that's coming up this Holiday though. Nintendo says that they have more surprises on the way, including the slate of games they have on the way.
That's a list that includes:
Super Smash Bros. Ultimate