The Infested Mines DLC is available now for PC, and will be soon for PS4 copies of Space Hulk: Deathwing – Enhanced Edition.
Free purging
All done purging the xenos in Space Hulk: Deathwing – Enhanced Edition? Well you have some good news coming then, because there's a fresh round of free DLC hitting right now for the PC edition. Playing on a PS4? That'll be arriving soon too – and also for free.
As for what you get in this free content pack, it's actually pretty nice. Included is the Infested Mines level, which is set to offer more "verticality" than anything other Deathwing level previously.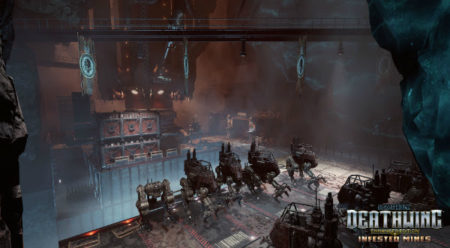 It's playable in both the Solo Special Missions and Multiplayer Co-op modes too. So you can get some decent mileage out of it. Just as an aside too, that brings the map count to 8 according to the press release.
General balancing improvements are included here in this download as well, and you now have the ability to turn off the HUD. That should please old school fans, as I believe the classic 3DO version of Space Hulk did not have one.
Don't have Space Hulk: Deathwing – Enhanced Edition? Then you might want to take advantage of the Steam sale on the game, that's currently running. You can snag a copy for the PC at a cool 50% off the asking price.