Traveller's Tales gets villainous with their first LEGO game focusing on the bad guys. We spent a little time with LEGO DC Super-Villains at SDCC.
It's good to be bad
LEGO games are, quite honestly, a pretty standard occurrence. There doesn't seem to be a year that does not see at least one come and go. And most of the time, it feels like there are a few on the calendar. This year has already seen LEGO The Incredibles, and will soon see another released, though this next one has a twist.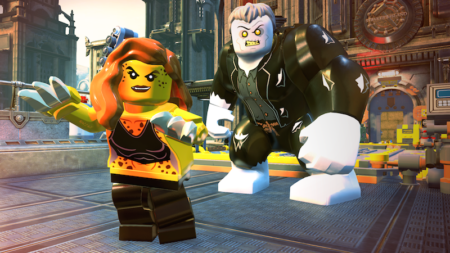 That is, of course, that it focuses on the bad guys. Well, sort of. LEGO DC Super-Villains does cast you as a villain in the LEGO DCU, but it doesn't pit you against the Justice League. The game actually features a narrative that loosely follows the "Forever Evil" plat that played out in DC Comics during the New 52 era.
If you're unfamiliar, Forever Evil saw the League banished from the DC Universe. In their place, were their wicked doppelgängers from an alternate Earth. And these guys and girls were much, much worse than all but the most vile of DC's villainous stable. So it makes perfect sense then, that the bad guys would be the good… uh, well let's just call 'em "the not-evilest guys".
Familiarity, with some new elements
I didn't get to spend all that much time playing LEGO DC Super-Villains, but I liked what I saw. That's a statement that's coming from someone who's more than a little bored with LEGO games by the way.
They're all pretty same-y after all, even when developer Traveller's Tales tries to incorporate new features. Most LEGO games also have a very similar tone however, and that's one of the two things that are majorly different this time around.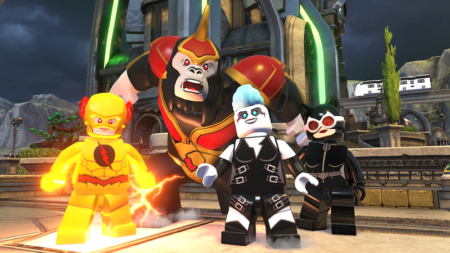 While the gameplay is still what you expect to see, the feel is decidedly different. The whole "bad guy" vibe is definitely in play, and actually does make for a more lively time. Also, the create-a-villain feature figures directly into play, and is both new to superhero games and plenty of fun.
You can mix and match costume parts, change colors, and generally create your own DC Comics baddie. So if there's an original guy or gal that you've been picturing in your head, or a character from 'another publisher' that you'd like to bring into the DCU, you probably can. As you can imagine, not everything is possible within the editor, but plenty is.
Plenty to look forward to
While I know I said a lot of positive things above, I'm still not completely sold on LEGO DC Super-Villains. Yes, there's a lot to like here including some really nice looking graphics and great voice work, but in the end it's still another LEGO game.
And whether or not you're down for that is something that you're going to have to ask yourself as you consider diving in. For what it's worth though, this is the most fun I've had with a LEGO game in a while.
LEGO DC Super-Villains hits consoles and the PC this October.