Deadpool 2 is hitting theaters soon, with Cable firmly wedged into a co-starring role. But there's much more of the merc and the cyborg to come, with a Marvel Comics annual issue that sends the pair hurtling through time.
Odd couple
I've been reading Marvel books since the mid-80s. That said, I have read all of the Cable and X-Force stuff, right from the top. I don't say that for geek cred, I say it because I have no idea why the two characters have been paired so much over the last decade or so. They started out as enemies, and now they sort of still are I guess. Kind of frenemies (if I'm using that word right)? But still, it strikes me as weird.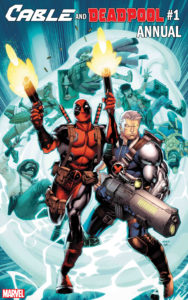 Not that it matters much. And it certainly won't stop Marvel Comics from continuing the Deadpool hype train. The sure-to-be success that Deadpool 2 will be in theaters next month doesn't hurt either. That film will also pair Deadpool and Cable, though more as straight-up enemies.
So, all of that in mind, here's what you can look forward to with Cable and Deadpool Annual #1:
Deadpool's got a new job…and to get it done, he'll need to call in help from his old pal, Cable! This summer, CABLE AND DEADPOOL ANNUAL #1 will bring the two heroes back together in a brand new story from David F. Walker and Paco Diaz, featuring a host of stellar artists who will bring readers a dose of history's favorite duo!

When Deadpool is hired to track a woman through time, he assumes it's your standard, run-of-the-mill rescue mission. But time-hopping villains are no joke, and nothing is ever simple when the Merc With A Mouth is involved! Enter Cable – the only chance Deadpool has of completing his mission without destroying the timestream…or the entire Marvel Universe!
Watch for Cable and Deadpool Annual #1 on the stands this August the 15th.