Marvel has had a pretty nice run with Star Wars since re-taking the license. Their main book is going strong and is about to hit issue #50.
The originals
Star Wars has been a fairly consistent IP for Marvel. Since 2015, they've published a surprising amount of limited series' too. In that time, there've been books based on the prequels, the new films, and of course the original trilogy.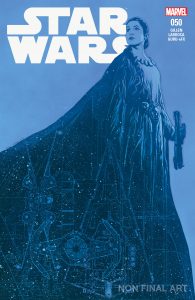 Right now, the company has two comics starring that galaxy far, far away. The first is a new Darth Vader series, and the second is the book that started it all for them, simply titled Star Wars. That series is coming up on issue #50, and it sounds like Vader will figure into the landmark issue.
Writer Kieron Gillen seems like he has quite the tale planned.
"When I was asked to take over the book, having a big story for the magical issue #50 was very much in my goals," said Gillen. "As such, I've spent the first twelve issues building up to this, which is basically the biggest story I've told in Star Wars. It's an event-level tragedy on an epic scale, and it's designed as the key bridging piece between A New Hope and The Empire Strikes Back. I also haven't written Darth Vader in ages, so now's the time to start having my lightsaber fun again!"
With art by Salvador Larroca, Star Wars #50 hits stands on July 4th.