It's as very special Friday the 13th, because Jason is coming home. The One:12 Collective version of the famed movie series' main monster is available to pre-order from Mezco Toyz.
Unlucky-lucky day
If you're a horror fan, then you've gotta love what Mezco is doing with it's One:12 Collective line. Mainly a superhero series of figures, they've got a really nice little horror sub-line happening. So far, we've seen Ash (from Evil Dead II), the Ghostbusters (if you consider them horror), and Michael Meyers, though all of the above are still in the pre-order state. The classic Boris Karloff Frankenstein however, has been available for a while. And now, we've got the ultimate slasher – Jason.
This version of Mr. Voorhees is from Friday The 13th Part 3, and is designed to reflect his look from that film. As such, he includes a ton of weaponry, but also an extra head with a massive and bloody gash, and a cracked hockey mask. Pretty wicked.
You can pre-order a Jason for yourself right here. He's scheduled to ship out in the October to December timeframe.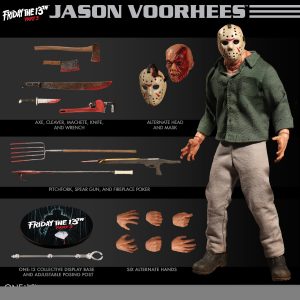 THE ONE:12 COLLECTIVE JASON VOORHEES FIGURE FEATURES:
One:12 Collective body with over 28 points of articulation
Two (2) head portraits
Hand painted authentic detailing
Approximately 16cm tall
Six (6) interchangeable hands

One (1) pair of holding hands (L&R)
One (1) pair of relaxed hands (L&R)
One (1) spear gun holding hand (R)
One (1) grabbing hand (R)
COSTUME:
Two (2) hockey masks (damaged & undamaged)
Button-down workmen's shirt
Workmen's pants
Work boots
ACCESSORIES:
One (1) axe (fits into gash on wounded head or can be held)
One (1) machete
One (1) cleaver
One (1) wrench
One (1) fireplace poker
One (1) knife
One (1) spear gun