Pacific Rim Uprising hits theaters this month, but that's far from all you'll be seeing from the property. Diamond Select has a monster amount of figures and more set to hit shelves. And the action figure onslaught is going to last all year.
Kaiju 'n' Jaegers
There is a lot of Pacific Rim stuff coming from DST. Like, a lot. A total of three series' of 7.25″ action figures are scheduled to hit throughout the year, all of them loaded with three Jaegers each. There's also a monster-sized Kaiju set to land at retail.
Each Jaeger wil have 16 points of articulation, and extra parts. The Kaiju won't have quite that much poseability, but will feature a movable jaw. Cool stuff.
Then there's also a line of D-Formz coming too. Those are superdeformed figures. So if you like your big robots and monsters cuter than deadly, these are for you. They'll be hitting this fall, in blind box form.
Here's the rundown of all the "Select" stuff on the way:
Pacific Rim Select Wave 1 (available soon):
Gipsy Avenger (7.25″, Item #AUG179033, SRP: $24.99) with alternate weapon arms
Saber Athena (6.75″, Item #AUG179034, SRP: $24.99) with interchangeable hands and swords
Bracer Phoenix (6.25″, Item #AUG179035, SRP: $24.99) with alternate hands
Pacific Rim Select Wave 2 (available this summer):
Obsidian Fury (7.75″) with his twin blades
Guardian Bravo with his mace
Titan Redeemer with his whip
Kaiju Hakuja (12″ long vinyl figure)
Pacific Rim Select Wave 2 (available "end of 2018"):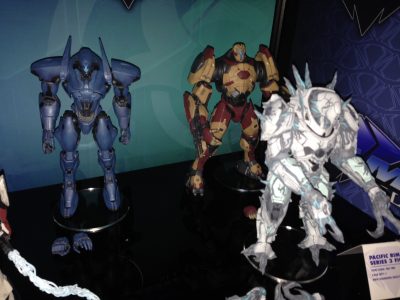 November Ajax
Valor Omega
A Drone Hybrid