Well this is a very nice little surprise! Mezco Toyz has announced a new addition to the One:12 Collective, with modern action movie star John Wick.
Action aplenty
I don't know why I'm so shocked by this announcement, but I totally am. Well, maybe I do.
Mezco's One:12 line has been a hotbed of superhero offerings with it's Marvel and DC Comics series'. It's delved into the horrific too, with classic Universal monsters, slashers like Michael Myers, and even the Ghostbusters and Evil Dead's Ash. But one thing it's not really done at all is action movie stars.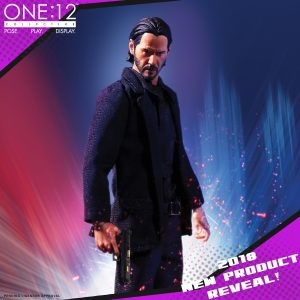 Sculpted to resemble action Keanu Reeves however, this John Wick figure represents the first. And man, am I hoping that that's continued. As awesome as a Wick figure is, I'd love to see classic Arnold Schwarzenegger and Van Damme roles represented as well. The mind boggles.
But let's get back to the toy at hand, cause he's looking awesome. John Wick is an early sneak peek at what Mezco will have on hand at Toy Fair next week, so there's little to go on for now. Of course, it's safe to assume he'll have all the One:12 signature articulation and detailing.
Check back here next week for a more detailed look!